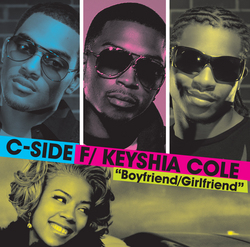 C-SIDE's underground attitude complemented by1720 Entertainment's mainstream vision perfectly complements our goal of taking this compelling and innovative hip hop group to even greater success
New York, NY (PRWEB) March 17, 2008
1720 Entertainment and Universal Republic Records are pleased to announce a joint venture to market, promote and distribute Atlanta-based Hip Hop trio C-SIDE. The 1720/Universal Republic joint venture includes a new version of the single "Boyfriend/Girlfriend" featuring Grammy nominated Keyshia Cole. The single was the No. 1 "Most Added" track at Rhythm radio this week and will be released to Top 40 radio on 3/18 and Urban radio on 4/1. The "Boyfriend/Girlfriend" video, directed by Benny Boom and also featuring Keyshia Cole, was recently filmed in Los Angeles.
Previous to the partnership, C-SIDE garnered national airplay with their hit "Boyfriend/Girlfriend," the featured single off of their 3-song, digital EP, Class In Session, currently available on iTunes. C-SIDE scored a "Top 5 Most Played" Myspace.com track last year with their digital anthem "myspace.freak," along with an unprecedented one-month feature at iTunes. C-SIDE will release their full-length debut album this summer.
"Everyone at 1720 is excited about teaming up with Universal Republic! We're looking forward to developing a strong partnership and taking this talented group to new heights. It's going to be both rewarding and gratifying to watch C-SIDE blow up and receive the recognition they deserve," states Terry K. Johnson, President/CEO, 1720 Entertainment.
"C-SIDE's underground attitude complemented by1720 Entertainment's mainstream vision perfectly complements our goal of taking this compelling and innovative hip hop group to even greater success," stated Monte Lipman, President & CEO of Universal Republic Records. "We look forward to a fruitful working relationship with Terry and his team."
In addition, since forming C-SIDE six years ago, Kenny Kold, Gator and Bo-Q have made a name for themselves by producing records for everyone from Ludacris and TI, to Lil' Mama and Dem Franchise Boyz. For further information, visit their website at http://www.myspace.com/csideonline or http://www.csideonline.com.
About 1720 Entertainment
1720 Entertainment was established in 2004 to empower the dreams of artists who possess not only undeniable talent, but integrity and heart. The company embraces diversity, covering a broad spectrum of musical styles ranging from Country and Pop, to Soca/Reggae and Hip-Hop, and is passionately creative in the development of their artists, their music, performances and their careers. By providing music content and utilizing every conceivable new media platform, (including the digital and mobile space), 1720 is firmly pointed toward the future dynamic evolution of the music/entertainment industry. Key artists include Rissi Palmer (Country), Alison Hinds (Soca/Pop), C-SIDE (Hip-Hop), Rod Michael (Pop), ELVIS WHITE (Soca/Pop), and Make-A-Wish Foundations' Abby Fields. (Pop/rock). For further information visit http://www.1720entertainment.com.
About Universal Music Group
Universal Music Group (UMG) is the world's largest music company with wholly owned record operations or licensees in 77 countries. Its business also includes Universal Music Publishing Group, the world's leading publishing company.
UMG's labels include Decca, Deutsche Grammophon, Emarcy, Interscope Geffen A&M Records, Island Def Jam Music Group, Lost Highway Records, Machete Music, MCA Nashville, Mercury Nashville, Mercury Records, Philips, Polydor Records, Universal Music Latino, Universal Motown Republic Group, Universal South Records and Verve Music Group, as well as a multitude of record labels owned or distributed by its record company subsidiaries around the world. The Universal Music Group owns the most extensive catalog of music in the industry, which is marketed through two distinct divisions, Universal Music Enterprises (in the U.S.) and Universal Strategic Marketing (outside the U.S.). Universal Music Group also includes eLabs, a new media and technologies division; Bravado, its merchandising company; and Twenty-First Artists, its full service management division.
Universal Music Group is a unit of Vivendi, a global media and communications company.
###