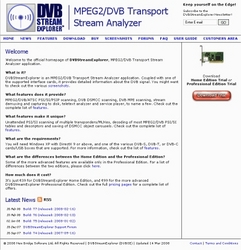 We believe that the new website will help users discover better the potential of DVBStreamExplorer as one of the leading MEPG-2/DVB Transport Stream Analyzers, mainly due to its unique features that make it stand out from other similar tools, whilst providing our customer base with a better support framework
Msida, Malta (PRWEB) March 17, 2008
DVBStreamExplorer, developer of the MPEG-2/DVB Transport Stream Analyzer software that carries the same name, today announced the launch of its new website http://www.dvbstreamexplorer.com. The layout of the new website allows for an easier and more streamlined user experience. The website provides a showcase of the DVBStreamExplorer application by exposing the highlights of the software tool on the entry page, whilst providing convenient links at the top for better navigability. The layout facilitates the download of the Trial Version of DVBStreamExplorer, includes a navigable list of features, exposes product screenshots, and even includes an HTML version of the User's Guide for online access.
"We believe that the new website will help users discover better the potential of DVBStreamExplorer as one of the leading MEPG-2/DVB Transport Stream Analyzers, mainly due to its unique features that make it stand out from other similar tools, whilst providing our customer base with a better support framework," said Jens Vaaben, CTO of DVBStreamExplorer.
The new website also helps users purchase the product online and pay via PayPal. Instructions on how to download the full version of the product will be sent via e-mail and almost immediately. A Customers Area allows customers to download the full version of the software, view past orders, retrieve invoices and update their contact information.
To develop the website, DVBStreamExplorer has partnered with New Bridge Software Ltd, a developer of online solutions and software distributor based in Malta. "We are very happy with the result. DVBStreamExplorer is already a well-respected name in its field, and we hope that the revamped website will be one of the initiatives that will help DVBStreamExplorer reach a higher level in customer satisfaction," concluded Sinclair Calleja, CEO of New Bridge Software Ltd.
About DVBStreamExplorer
DVBStreamExplorer is an MPEG-2/DVB Transport Stream Analyzer for the Windows platform. DVB, short for Digital Video Broadcasting, is a suite of internationally open standards for digital television, and defines the physical layer and data link layer of broadcasting via mediums such as Satellite (DVB-S, DVB-S2 and DVB-SH), cable (DVB-C) and terrestrial television (DVB-T and DVB-T2). Video and audio is transmitted using an MPEG-2 transport stream, but this is usually multiplexed with other information such as TeleText, and recently even Java-based multimedia applications aimed to provide set-top box interactivity.
DVBStreamExplorer, used in conjunction with a DVB decoder card such as those manufactured by TechnoTrend, can provide detailed transport stream analysis. Features include MPEG2/DVB/ATSC PSI/SI/PSIP scanning, DVB DSMCC scanning, DVB MPE scanning, stream demuxing and Teletext analysis. DVBStreamExplorer also includes a Service Player for MPEG-2, MPEG-4 H.264, AC3 SD and HD services, whilst uniquely allowing unattended PSI/SI scanning of multiple transponders/MUXes, the decoding of most MPEG2/DVB PSI/SI tables and descriptors, and saving of DSMCC object carousels. DVBStreamExplorer comes in two versions: DVBStreamExplorer Home Edition and DVBStreamExplorer Professional Edition, and supports a wide range of BDA compatible cards. For a complete list of features, visit the feature page http://www.dvbstreamexplorer.com/features.aspx. DVBStreamExplorer is exclusively distributed by New Bridge Software Ltd.
For more information contact:
New Bridge Software Ltd
Tel: 356 21318135
# # #