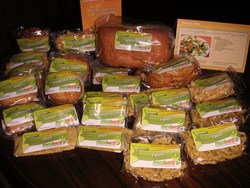 While I have continually written on the potential of our diet to change the expression of our genes, these new MedWell123.com food products finally makes my dietary advice to help people lead healthier lives a complete reality
New York, NY (PRWEB) March 17, 2008
Healthy comfort foods that enable consistent weight loss and normalization of blood sugar levels are finally available due to an innovative breakthrough food technology developed under the leadership of Dr. Barry Sears, chairman of MedWell Foods, Inc. and noted author of the New York Times #1 bestseller, 'The Zone'.
MedWell Foods has launched the first line of patented healthy comfort foods that Dr. Sears said, "Now brings hope and realistic dietary solutions to people fighting obesity or just wanting to lose weight, as well as those who are trying to manage type 2 diabetes."
"While I have continually written on the potential of our diet to change the expression of our genes, these new MedWell123.com food products finally makes my dietary advice to help people lead healthier lives a complete reality," Dr. Sears continued.
"It is probably easier to get people to change their religion than their diet. So we focused on changing the nutritional composition of foods people like to eat in order to suppress their hunger for up to six hours," said the famed author.
He added, "At MedWell123.com we know that if you aren't hungry, it becomes relatively easy to cut back on calories. Using MedWell's new patented technology, it is finally possible to develop unique healthy comfort foods like bagels, rolls, bread and pasta to make weight loss incredibly easy since the MedWell customers essentially are not changing their diets."
Dr. Sears said, "MedWell pasta, bagels and all food products we products, are prepared with one gram of fat for every two grams of protein and three grams of carbohydrates, or 1-2-3, which is why we describe them as MedWell 1-2-3 products."
Discussing MedWell123.com, he explained, "Losing weight and mangaging type 2 diabetes can be difficult, which is why MedWell123.com created new healthy comfort foods to make that process simple."
He added, "The key to the success of MedWell 1-2-3 foods is they suppress appetite for up to six hours by changing hormonal responses induced by the food we eat. If you aren't hungry, then cutting back on calories is easy, especially when you are eating foods you love to eat."
Although the science behind the products is exceptionally complex, the taste of MedWell123.com healthy comfort foods, which lead to weight loss, is virtually indistinguishable from those typical comfort food products that cause weight gain.
The MedWell 1-2-3 products give people trying to lose weight or manage type 2 diabetes the dietary tools they need in their life-long struggle. Many people have genetic susceptibility to the adverse hormonal consequences of the typical American diet, and MedWell 123 offers them a solution.
MedWell 1-2-3 "healthy comfort foods" can be found online at http://www.medwell123.com, or by calling toll-free to 866-633-7898, for more information.
The MedWell 123 system is easy as 1-2-3. People on the MedWell1-2-3.com program each week receive freshly-baked food MedWell123.com products, consisting of three meals and snacks for each day of the week. The delicious MedWell 1-2-3 healthy comfort foods provide the foundation upon which a wide variety of recipes can be used to personalize meals.
The cost of MedWell 1-2-3 meals and snacks is only $70 a week, or $10 a day, for breakfasts, lunches, dinners and snacks that http://www.medwell123.com ships by UPS, so foods arrive fresh and ready to eat.
###