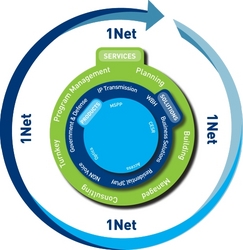 Petah Tikva, Israel (PRWEB) March 17, 2008
ECI Telecom, a global provider of networking infrastructure, today announced ECI 1Net, a comprehensive framework focusing on the optimal transition to next-generation networks, through the unique combination of multi-functional network equipment, fully integrated solutions and a suite of professional services to provide customers the highest level of support as they evolve their networks. As a key component of ECI 1Net, the company is announcing today the Carrier Ethernet 9000 Family, to complement ECI's existing next-generation packet-optical and access product lines. The 9000 Family product line includes Carrier Ethernet switch routers, aggregation switches and demarcation units for the metro core, metro access and customer premises. The 9000 Family is highly integrated with ECI's market leading WDM/ROADM and Multi-Service Provisioning Platforms (MSPP) based on the XDM® and BroadGate® metro networking platforms. This integration of the optical layer with the IP/Ethernet layer uniquely positions ECI to deliver the most complete view of potential network services via one converged network.
Today's challenges for service providers include coping with multiple and simultaneous transitions to new technologies and service offerings. ECI mitigates the pain and the risk associated with these challenges, by delivering a holistic approach to network transition, including simple to operate and maintain equipment, end-to-end solutions and the networking expertise to provide the support needed to design, consult on and implement service providers' networking needs. This approach translates into savings in the network total cost of ownership (TCO) of up to 20% when compared to options where products, solutions and services are dealt with independently of each other.
Enabling network service providers to have the greatest flexibility in creating new revenue opportunities is also a key objective of ECI's 1Net framework. ECI has focused on solutions that will support current and future services with the maximum flexibility, speed and ease of service creation and management, all without significant additional capital investment and the lowest operational expense.
"The ability to simplify network planning and design means that service providers can reduce cost exposures over the long-run, as networks, services, and applications become increasingly complex. With ECI 1Net, service providers can turn to ECI as an established partner with a history of carrier-class networking expertise accumulated via a large installed base at the access, aggregation, and metro core level. ECI has made a name for itself by focusing on multi-function elements that deliver cost-effective options for carriers. ECI 1Net is an interesting way to convey and unify their product and service portfolios with a consistent set of values and requirements across access and metro networks," said Michael Howard, Principal Analyst, Infonetics Research.
All ECI 1Net products, including the new 9000 Carrier Ethernet Switch Router (CESR) Family, will deliver optimal access and metro networking solutions that are agnostic of specific technology or network architectures. This allows ECI's customers to support their current services and the flexibility to deploy new offerings, affording gradual migration and ongoing integration at the customer's pace. The ECI 1Net framework was designed to allow customers to drive change as the business environment demands and not according to any specific network architecture or networking platform.
ECI also offers a complete suite of services to support carriers' business and operational challenges. ECI's experience as a long-term strategic partner to some of the world's most dynamic carriers is translated into offerings that cover the complete range of network services life cycle, from network planning and design, through implementation and integration, maintenance, optimization, and operations.
"We believe that the best way to successfully lead the move to next-generation networks is through an integrated approach with cost optimized and multi-functional equipment and solutions that interoperate and enable one operational network. With our field-proven expertise in networking technologies, we have created ECI 1Net - ECI is offering the optimal transition path to one converged network, not one more network! ECI 1Net demonstrates our commitment to putting the customer first--from network planning and deployment through operation services--all while offering customized innovations and improved network efficiency at lower total cost of ownership. We believe these proven capabilities will establish us as long-term partners of our customers," commented Rafi Maor, CEO & President of ECI Telecom.
About ECI Telecom
ECI Telecom Ltd. delivers innovative communications platforms to carriers and service providers worldwide. ECI provides efficient platforms and solutions that enable customers to rapidly deploy cost-effective, revenue-generating services.
Founded in 1961, Israel-based ECI has consistently delivered customer-focused networking solutions to the world's largest carriers. The Company is also a market leader in many emerging markets. ECI provides scalable broadband access, transport and data networking infrastructure that provides the foundation for the communications of tomorrow, including next-generation voice, IPTV, mobility and other business solutions. For more information, please visit ecitele.com.
Certain statements contained in this release may contain forward-looking information with respect to plans, projections or future performance of the Company. By their nature, forward-looking statements involve certain risks and uncertainties including, but not limited to, product and market acceptance risks, the impact of competitive pricing, product development, commercialization and technological difficulties as well as other risks.
###