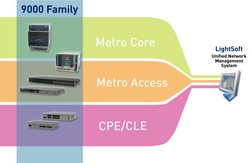 Petah Tikva, Israel (PRWEB) March 17, 2008
ECI Telecom, a global provider of networking infrastructure, today announced the 9000 Family of Carrier Ethernet products for metro transport and service delivery. With the 9000 Family, ECI enables operators to transform their metro infrastructure to efficiently support the latest Ethernet and IP services. The 9000 Family is at the core of ECI's new architectural framework - ECI 1Net, also announced today.
The 9000 Family includes two product Series. The 9700 Series of Carrier Ethernet switch routers was designed to meet the requirements of metropolitan core networks where density, performance and quality-of-service are critical, and the 9200 Series targeting the edge of the metropolitan network where cost optimization, form factor and service aggregation really count.
"ECI's 9000 Family and its 1Net framework substantially simplify IP, Ethernet and MPLS services through tools and techniques that are familiar to carriers around the world. Our market research has revealed that the combination of the WDM and Carrier Ethernet markets will be about $11 billion by 2011. ECI Telecom has the potential to gain substantial traction in this huge area," said Eve Griliches, Program Director, IDC.
End-to-end, point-and-click provisioning and network management is a key requirement of carriers worldwide. ECI's vast experience in transport networking allows the company to radically simplify the deployment of IP/MPLS services and infrastructure. As a major value proposition, ECI has ensured that the 9000 Family is managed by the leading LightSoft® network management system (NMS), which is also used by the company's XDM® and BroadGate® families of multi-service provisioning and transport platforms (MSPP/MSTP). By implementing LightSoft support in both the 9000 Family and the XDM and BroadGate families of WDM/ROADM and MSPPs, ECI is uniquely positioned to deliver a view of the network that is operationally one converged view, by managing Layers 1, 2 and 3 services via a single NMS. Furthermore, service providers' workforces already familiar with transport operational methods will have a familiar approach and interface to turning up and managing new services based on Carrier Ethernet. This is a solid proof point to the promise of the ECI 1Net framework also announced today.
"The 9000 Family is the first Carrier Ethernet solution built with a transport-oriented mindset and approach to operational issues, featuring true carrier-class capabilities and an integrated solution with a common NMS, bringing WDM/ROADM, MSPP and now Carrier Ethernet into one operational network. The solution meets the stringent requirements for always-on services such as VoIP and IPTV. ECI has always focused on multi-service and multi-functional capabilities as proven with our successful MSPP and our multiservice access node (MSAN) solutions. Back in 2006 we merged our Data Networking and Optical Networking divisions together to enable this level of integrated solution for our Carrier Ethernet solutions. We are pleased to be announcing it to the market today," commented Rafi Maor, CEO and President of ECI Telecom.
The 9000 Family was independently tested and certified by the Metro Ethernet Forum (MEF) as meeting the MEF's strict standards for service delivery over both GigE and 10 GigE interfaces. The 9000 Family also supports a variety of industry protocols and standards, including a complete set of IP and MPLS protocols, BFD, Ethernet OAM (e.g. 802.1ag) and more. Available in Q2 2008, the carrier-grade product suite consists of the 9700 Series (Carrier Ethernet switch routers) and the 9200 Series (aggregation switches and demarcation units). The 9000 Family, including the flagship 9700 Series, is in multiple customer trials worldwide.
About the 9700 Series
The 9700 Series of Carrier Ethernet switch routers provides industry leading wire-speed GE density (1200 GigE ports per rack, or 120 10GigE ports). Initially, the system supports 40Gbps per slot, with the ability to scale up to 100 Gbps per slot and 1 Tbps per shelf in the future. The platform's hierarchical quality of service implementation and scalable IP multicast enable side-by-side deployment of business (L2 and L3 VPNs) and residential triple play and IPTV services. The ShadeTree IP/MPLS control plane has been enhanced with cutting-edge Carrier Ethernet features to enable the delivery of MEF services such as E-Line, E-LAN and E-Tree along with the latest Ethernet OAM standards from IEEE and ITU.
The 9700 Series includes native hardware acceleration necessary to support scalable deployment of Carrier Ethernet OAM performance and fault management protocols combined with the multilayer management capabilities of the LightSoft NMS. The SR9710 is a 10-slot, 400 Gbps system, and the SR9705 is a 5-slot 200 Gbps system with full interchangeability of line cards between platforms.
About the 9200 Series
The 9200 Series of access switches and demarcation units delivers wire-speed performance in a small form factor for Ethernet aggregation and Circuit Emulation services. The 9200 Series complements the 9700 Series by providing Ethernet demarcation at the customer premises and cost-effective aggregation in the service providers' access network. Resilient Carrier Ethernet access rings are supported for better infrastructure utilization with fast service restoration. Migration of legacy services is supported through T1/E1 Circuit Emulation, enabling those services to be conveyed over the metro Ethernet network via MPLS.
The 9200 Series includes the AS9205 compact carrier grade FE aggregation switch, the AS9220 carrier grade multi-service aggregation switch, the DM9234 high performance Ethernet demarcation unit and the DM9225 compact demarcation unit.
About ECI Telecom
ECI Telecom Ltd. delivers innovative communications platforms to carriers and service providers worldwide. ECI provides efficient platforms and solutions that enable customers to rapidly deploy cost-effective, revenue-generating services.
Founded in 1961, Israel-based ECI has consistently delivered customer-focused networking solutions to the world's largest carriers. The Company is also a market leader in many emerging markets. ECI provides scalable broadband access, transport and data networking infrastructure that provides the foundation for the communications of tomorrow, including next-generation voice, IPTV, mobility and other business solutions. For more information, please visit ecitele.com.
Certain statements contained in this release may contain forward-looking information with respect to plans, projections or future performance of the Company. By their nature, forward-looking statements involve certain risks and uncertainties including, but not limited to, product and market acceptance risks, the impact of competitive pricing, product development, commercialization and technological difficulties as well as other risks.
###