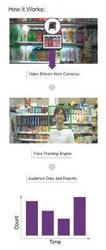 We are continually striving to develop products that meet the industry's needs. Small digital signs are becoming an increasingly popular merchandising tool for use in aisles, on end-caps, and at checkouts. iCapture Mini makes it possible to measure and classify who is watching those screens
Tampa, FL (PRWEB) March 18, 2008
TruMedia Technologies (http://www.tru-media.com), the world's leading provider of real-time audience measurement systems, recently announced the launch of iCapture™ Mini - a video based audience measurement solution for small digital screens in out-of-home venues such as kiosks and end-caps in stores, malls, gas stations and other retail environments.
iCapture Mini captures audience faces via a small-form-factor, wide dynamic range (WDR) camera that is able to overcome harsh illumination conditions such as strong backlight. Up to two iCapture Mini cameras can be connected to one iCapture SmartBox: an embedded video processor that produces true "face towards" counts, individual exposure times and other indicators for viewer engagement. iCapture SmartBox also executes advanced video classification algorithms to determine a viewer's gender and age-group.
"We are continually striving to develop products that meet the industry's needs. Small digital signs are becoming an increasingly popular merchandising tool for use in aisles, on end-caps, and at checkouts. iCapture Mini makes it possible to measure and classify who is watching those screens," said TruMedia Chief Executive Officer George Murphy.
The iCapture Mini debuted to positive response at the Digital Signage Expo at Las Vegas Convention Center 28th February 2008.
iCapture Mini, like all TruMedia products, is fully respectful of the audience's privacy: no images are ever recorded, and no uniquely identifiable data is extracted.
About TruMedia
TruMedia Technologies Inc (http://www.tru-media.com) is the leading provider of real-time audience measurement solutions. TruMedia's advanced automated imaging systems deliver accurate viewing measurements for out-of-home advertising on posters, digital signs, TV monitors, display windows and in-store product displays.
Using proprietary video analytics technology developed during the past 5 years within the homeland security industry to detect and track viewers' faces, TruMedia's audience measurement solutions generate true, real-time viewing data for displays in order to measure true visual exposure to media and merchandise.
Proactive merchandising is also made possible using TruMedia's PROM feature, an Application Programming Interface (API) which enables iCapture to interface with leading content delivery management systems to tailor digital signage messaging to specific demographics or to audience behavior in real-time.
When combined with the data provided by iTally™, an Opportunity to See people counter, the number of people who passed by any given display can be compared with the number of people who actually watched the display to calculate audience impact ratios.
###