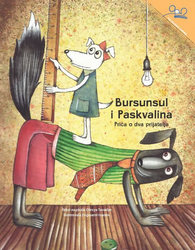 We are very excited to have these wonderful multilingual books on our site
Reston, VA (PRWEB) March 19, 2008
Big Universe, a unique online site dedicated to high-quality children's books, has signed an agreement with the International Step by Step Association (ISSA) to promote its vast array of multilingual books on BigUniverse.com. Pictures books by The Reading Corner, a publishing initiative that ISSA launched in 2003, deal with everyday problems that a child would encounter: from issues associated with a home move to the first day of class, to having a new brother or sister, to being discriminated against for being different. Posting their books on Biguniverse.com will bring these wonderful, lively and colorful multilingual titles directly into the homes of a new generation of readers.
The books are available in twelve languages: Albanian, Armenian, Czech, French, Hungarian, Romanian, Russian, Serbian, Slovak, Spanish, Ukrainian, and English.
"We are very excited to have these wonderful multilingual books on our site," said Anil Hemrajani, President and founder of Big Universe. "It has always been our company's mission to promote global awareness through beautiful children's picture books -- The Reader Corner books help us achieve this goal incredibly well."
Big Universe uses its Big Universe Reader™ software to provide easy access for kids and adults to read and enjoy the Reader Corner's books in the home, as well as in school. Users can view each book in its entirety and easily purchase the printed versions by a click through to an on-line retailer. In addition, Big Universe provides ISSA with a dedicated online "shop" that promotes the Reader Corner books and brand.
"We're very happy to work with BigUniverse.com to allow young readers the chance to enjoy our books at home or at school while also making it easy for parents and teachers to buy copies for their personal use and enjoyment," said Martin Greenwald, director of The Reading Corner. "The outstanding quality of the presentation by Big Universe combined with the convenience of viewing and purchasing the books online is highly beneficial to us."
To view ISSA's shop and books on BigUniverse.com, visit http://www.biguniverse.com/shop/issa.
About Big Universe: Big Universe® is an online community where kids, parents, teachers, publishers, authors, illustrators, bloggers and others come together to explore the exciting world of online children's books. It offers hundreds of fiction and nonfiction children's books readable directly on the website, a book authoring tool to create and publish children's books, blogs on relevant topics and much more. For more information, visit http://www.biguniverse.com/.
About ISSA: Since 1999, the International Step by Step Association, a nonprofit group of educators and organizations, has been working in 29 countries from Central and Eastern Europe, to Central Asia, and the Americas to promote equal access to quality education and care for all children, especially in the early years of their lives. For more information about The Reading Corner's multilingual books, visit http://www.readingcorner.org/.
###