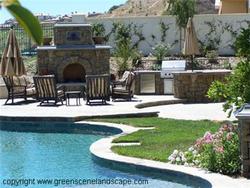 Yucaipa, CA (PRWEB) March 21, 2008 -
Outdoor entertaining has long been a staple of American summers. These days, outdoor entertainment doesn't only consist of barbequing hamburgers, homeowners and builders are creating one of a kind outdoor living and entertaining areas that include many of the usual interior amenities. Today, there are many options and possibilities available with concrete for creating the perfect outdoor living room.
ConcreteNetwork.com, the most comprehensive resource for concrete information on the web, has highlighted top tips and design ideas to tackle this tedious task. Throughout its sections, the site includes tips to consider for creating a beautiful outdoor area by incorporating concrete.
Below is a sample of the many tips you can find on outdoor living room design:
1. Determine the size and layout of your outdoor space. This will depend on what activities you want to accommodate and the size of your property. Whether your outdoor room is small or large, you'll want to create zones to separate various activities--such as cooking, conversation and relaxation--while allowing for good traffic flow throughout the space.
2. Complement your home's architectural style. The patterns and colors possible with decorative concrete are unlimited. Narrow down the options by choosing a design scheme that harmonizes with your home and landscape and echoes the design of your indoor rooms.
3. Create a room with a view by orienting seating areas to overlook flowerbeds, water features and other attractive scenery.
4. Provide a sheltered retreat. Awnings, umbrellas, gazebos, and pergolas supported by decorative concrete columns are all ways to shelter your outdoor guests from harsh sunlight and light rain while creating intimacy.
5. Get help pulling it all together. Work with a landscape architect and decorative concrete contractor to make your design ideas reality. These professionals can help you plan an outdoor room that matches your budget, aesthetic and functional requirements.
These are just a few of the many factors to consider when building an outdoor area. Browse through the site's outdoor living rooms section for many more tips and tricks.
Read more about concrete.
Established in 1999, The Concrete Network's purpose is to educate consumers, builders, and contractors on popular decorative techniques and applications. These include stamped concrete, stained concrete floors, concrete countertops, polished concrete, and much more. In 2007 The Concrete Network Website had over 11 million visitors researching decorative concrete.
The site excels at connecting buyers with local contractors in their area through its Find a Concrete Contractor service. The service provides visitors with a list of decorative concrete contractors throughout the U.S. and Canada, and is fully searchable by 23 types of decorative concrete work and 202 regional areas throughout North America.
Attached photos courtesy of The Green Scene.
###