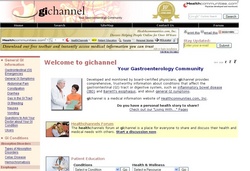 We targeted gastroenterology as our next specialty focus because of the large numbers of health care consumers seeking answers to digestive problems online
Northampton, MA (Vocus) March 18, 2008
Healthcommunities.com, Inc., a privately-owned online publisher of health information, beat the odds by surviving the Internet bust and recently celebrated its first decade by launching gichannel.com, the company's 30th specialty-specific patient education website. This new resource supports and helps unite health care consumers who have gastrointestinal disorders, providing a place to share stories and medical insights and to read practical information developed by physicians. Gastroenterologists registered as advisors on gichannel can interact with browsers, comment on the clinical information, and report the most recent medical advances and ongoing research.
Healthcommunities.com is thriving among larger, better-funded online health publishers by offering specialty-specific websites overseen by a co-op of otherwise unaffiliated medical specialists. Healthcommunities.com's sites don't overwhelm visitors with unnecessary high-tech gadgetry, but provide practical information that's easy to find and quick to download. Access to all of Healthcommunities.com's websites is completely free. The company's unique formula appears to be working: year-on-year unique visitors to the network of websites grew 36% in February of this year. All of Healthcommunities.com's browser traffic is generated through organic (or natural) search engine presence, referrals from other websites, such as physician practice websites, and direct links.
One simple, but very useful feature of gichannel is a Questions to Ask Your Doctor about Your GI Condition handout that browsers can print out and take to a medical appointment. Using the form, they can be sure to ask their medical team the right questions and best position themselves to benefit from a physician's care.
"We targeted gastroenterology as our next specialty focus because of the large numbers of health care consumers seeking answers to digestive problems online," said Stanley J. Swierzewski III, M.D., a practicing physician and the CEO and Founder of Healthcommunities.com. "Digestive disorders are common conditions that can have a tremendous impact on overall health. Proper function of the GI tract is directly related to the function of the rest of the body systems. Understanding how the digestive system works and learning how to treat and prevent disorders that affect the GI tract can help lead to better health. GIchannel fills a much needed void in Healthcommunities.com's array of online health resources."
"Browsers can learn from the physician-monitored content on gichannel, and then read stories of how others have dealt with a similar medical situation (or tell their own) in a moderated, edited section of the website called Living with GI conditions. In addition, browsers can participate in interactive forums. There is a separate GI forum for each specific clinical condition, such as the irritable bowel syndrome forum. Physicians who contribute to the forums are screened and identified as 'Healthcommunities.com Approved Physicians.'"
Browsers on gichannel.com can also use the physician locator feature to find gastroenterologists in their area who have registered for the service.
In August 2008, Healthcommunities.com will launch kidshealthchannel, which will provide important information about children's health issues to expectant parents, parents, guardians, and caregivers of children from birth to adolescence. Pediatricians who are interested in contributing to the development of kidshealthchannel should contact Healthcommunities.com as soon as possible.
Healthcommunities.com, Inc., a privately held company founded in 1998, serves health care consumers searching for reliable information. Healthcommunities.com is a Physician Developed and Monitored™ collection of online communities providing information and resources to consumers and patient education website services to health care providers.
###