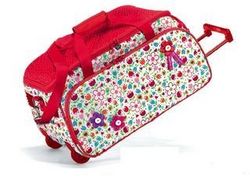 Interlaken, NJ (Vocus) March 18, 2008
For some parents, the notion of traveling with small children ranks somewhere between being audited by the IRS and getting a root canal. The whole preparation process can be a daunting task from trying to pack the entire family's gear into a carry-on tote, forcing you to cram junior's spare underwear in your make-up kit. Worse yet, being stuck on the tarmac and realizing that you forgot your little one's beloved blankie - the ultimate defense against an inconsolable child.
Today, thanks to the founders at Little Jet Set, parents can now find everything they need to make kids' travel simple, easy and fun on one user-friendly website at http://www.littlejetset.com. Little Jet Set provides an outstanding collection of kids' products that foster intellectual, emotional and physical development through creative and interactive play. Best of all, their products are conducive to travel on the road or in the air to keep children organized and occupied. You'll find everything from a boy's sampler of toiletries to a valise sleep-set packed in a hatbox, to dozens of travel-sized games and toys for all ages.
Many of Little Jet Set's unique toys, games and books have also been recognized for their outstanding designs, concepts and content by different awards organizations and publications including Dr. Toy, Oppenheim Toy Portfolio, iParenting, National Parenting Publications Awards (NAPPA), Nick Jr. Magazine, Parenting Magazine, Creative Child Magazine, American Library Association, American Bookseller and The National Parenting Center. So parents can shop with confidence knowing they are buying products that have been tried and tested!
Little Jet Set believes that the prepared parent is the happy parent on trips. Parents will be delighted to discover that a variety of unusual and functional travel items are just one mouse click away at http://www.littlejetset.com. With such a wide selection, parents can easily find products to keep youngsters completely outfitted for a variety of family excursions including cross-country visits to grandmas or afternoon trips to the park. Little Jet Set is sure to keep your kids well prepared for your next travel adventure, no matter the locale, and that's guaranteed to make mom one happy camper.
Here's a sampling of new travel products from Little Jet Set that are sure to be a hit this season:
Find It "At the Beach" - This creative beach-themed travel game can be played anywhere and never needs to be put away. Children and grown-ups alike will enjoy the hunt for over 40 colorful hidden beach treasures buried within layers of recycled plastic pellets. Like all of the games from Find It Games, it is completely self-contained so there are no pieces to lose. Spin it, shake it and twist it until all the treasures are found! For one or more players ages 5 and up. Suggested retail: $21.95.
A Bit of BanterJr. - A Bit of Banter Jr. is the game that gets kids talking with their family and friends, making it the perfect take-along for family vacation or camp. Players vie for the title of "Best Banterer" by answering questions from four categories: Bits and Pieces, This and That, Now Hear This! and In My Bubble. Comes with 88 illustrated cards (256 questions), gemstones, 2 dice and rule booklet. From Family Games, the game is perfect for three to eight players ages 7 and up. Suggested retail: $15.95.
Art Folios by The Piggy Story - The Art Folio takes case design to a whole new level. Beautifully crafted in a retro pattern, this velcro-secured fold 'n' stow art case will keep your kids steeped in creativity (and happily occupied) at home or on the road. Comes complete with drawing pad and 12 crayons. Available in Doggie Diary (shown), Piggy Fairy, Cow Print and What's A Dragon styles. Ages 3 and up. Suggested retail: $20.00.
Also available from The Piggy Story in four styles: Ramblin' Kid Suitcase Sleep Set, Lil' Diva Valise Sleep Set, Handy Notecard Kit and the Art to Go Roll.
Chameleon Travel Playhouse - This soft travel playhouse is full of games that can be played anywhere. Latitude Enfant's stacker has four stacking rings to arrange from biggest to smallest and finishing with the chameleon's head. A second game teaches associations - stacking rings are matched with fitted pockets on the tree according to size and pattern. Kids can test their motor skills by helping the chameleon kiss the ladybug and caterpillar through the holes in the tree. Ages 3 and up. Suggested retail: $30.00.
Lightning Bugs - Now you can stop leaving the lights on. Come nighttime, these little winged friends will make dark, unfamiliar hotel rooms, beach cottages, campgrounds - wherever - seem not so scary to little ones. Featuring an easy to locate on/off switch and an automatic shut-off that kids can reactivate, these darling flashlights in bug disguise will make falling asleep a breeze and middle of the night trips to the bathroom (or to mom and dad's room) easy. From Manhattan Toy, available in three styles for ages 3 and up including Beetle, Bee and Dragonfly and comes with two replaceable AA batteries. Suggested retail: $12.00.
Nocturnimals - With Nocturnimals from Manhattan Toy, there is no need to be concerned that you forgot to pack a nightlight (again). These light up, super soft plush animals are bound to become your little one's favorite night time friend. With a press of the paw, their bellies glow with gently changing hues. The light shuts off automatically after about 4 minutes. Available in three styles for ages 3 and up including Raccoon, Fox and Owl and comes with two replaceable AA batteries. Suggested retail: $20.00.
Busquets Bags and Accessories - Founded in Barcelona, Spain in 1922, Busquets is finally bringing its distinctly European designed children's bags and accessories to the United States. The design details are sure to impress even the most discerning and stylish of little jet setters. A Rolling Duffel, Backpack, Toiletry Kit, Pencil Case and Lunch Tote are available in four patterns: Mariona - red, turquoise, orange and green flowers combined with white tiny polka dots on a red background; Green Shine - light green with yellow flowers and floral appliqu?s; Forest - various shades of green leaves with a gecko detail; and Hugs - light blue background with sweet dog outlined in orange, white contrast stitching and orange dog pin. Suggested retail: Rolling Duffel, $119.95; Backpack, $69.95; Toiletry Kit, $37.95; Pencil Case, $12.95; and Lunch Tote, $25.95.
About Little Jet Set
Little Jet Set was co-founded by a pair of seasoned attorneys turned expert "mom travelers" who decided to take a sabbatical from practicing law to share their knowledge about the inherent challenges of traveling with children with other parents. As "momprenuers," Hana Wolf and Nisha Cordero carefully select thoughtfully designed and well-constructed products to share online at http://www.littlejetset.com that appeal to various ages and interests and that respond to the travel needs of today's families.
For more information about Little Jet Set visit http://www.littlejetset.com.
###