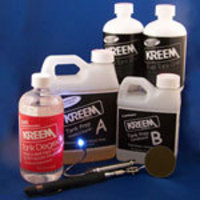 We know our customer's time is valuable, too -- and we won't ask them to waste it waiting. Instead, we'll call back as soon as it's humanly possible to do so.
Jackson, TN (PRWEB) March 19, 2008
G2 Industries, a distributor of Kreem Products, Inc. the leaders in the field of motorcycle tank restoration products, today shared results of informal product testing during automotive gas tank restoration projects. Owners of vintage trucks have successfully applied the Kreem Product prep and tank liner products to their truck tanks, and pronounced the results "excellent".
Additional information regarding experiences of vintage truck owners can be found at the company's website, KreemProducts.net , created by e-commerce experts G2 Industries.
The Kreem product line, which currently includes Kreem Fuel Tank Liner, the two-item Kreem Tank-Prep™ set, Tank Degreaser, Tank Mask, and Blue Shield™ Pipe Blueing Protectant, has earned its reputation for reliability during 30 years of service to the motorcycle restoration market. The use of the Kreem tank prep and liner products in restoring antique and vintage truck gasoline tanks, however, is a previously unexplored application, said G2 Industries executive Rachel Gibson.
"The principle and process is the same in both cases, of course," said Gibson. "The only difference is that the automotive (truck) tank is larger than a motorcycle fuel tank -- so it requires a larger amount of product to treat the area effectively. But it works equally well. So we have created a Titan Combo Kit with an appropriate amount of product to clean and line truck fuel tanks."
Alternative methods of treating and restoring truck tanks can be messy, expensive, and/or disappointing, Gibson notes. She points to a chronicle published in "Vintage Truck" by editor Patrick Ertel (October 2006), wherein Ertel describes his difficulties with restoration of a 1947 Dodge truck.
He first explored do-it-yourself methods advertised for restoring vintage automotive tanks, but discovered that most tank liners of this type do not work well -- if at all -- on a heavily rusted tank; and, short of intrusive drilling, it's hard to tell how badly the tank in question has deteriorated. Add to this the realization that a certain level of skill and expertise is required for the application of such products, and it is tempting to delegate the relining work to a professional.
Therefore, Ertl chose to entrust his Dodge's tank to a local radiator shop for relining -- and discovered that not only did their hot caustic radiator solution fail to remove the interior rust, but their hobbyist-grade air-drying liner also began to dissolve as soon as he put fuel in the tank. The result -- a fuel screen clogged with rust -- left much to be desired.
His ultimate solution--to hand over the tank to professional tank restorers who baked the tank to remove varnish, bored holes in it and sandblasted it inside and out, plugged the holes, filled the blasted tank with liner solution, then baked and cured it -- was eminently satisfactory, but rather costly.
"Kreem Fuel Tank Liner and Kreem Tank Prep products have proved themselves over several decades to be an effective, easy, and inexpensive method hobbyists can successfully apply on their own," said Gibson. "And the current findings from our panel of do-it-yourself vintage truck restorers have confirmed that the products do an impressive job on old truck fuel tanks -- just as they have done for a generation of enthusiasts who have used them in the restoration of vintage motorcycles.
"Kreem has long been the time-honored name associated with motorcycle gas tank restoration," said Gibson. "We're excited to discover that it is an equally valuable restoration tool for vintage truck enthusiasts, and happy to be able to share this good news with them."
The KreemProducts.net website features a comprehensive video that illustrates each detail of the application process; and complete, easy-to-understand step-by-step instructions on how the products should be used for best results.
If all else fails, says Gibson, there is always "a real human" to talk to for clarification and assistance. Just dial the toll free number on the website for either an immediate answer or a rapid call-back response.
"There's never a long wait on 'hold' while we talk to other customers," Gibson promises. "We know our customer's time is valuable, too -- and we won't ask them to waste it waiting. Instead, we'll call back as soon as it's humanly possible to do so."
According to Gibson, the website continues to offer the lowest retail purchase price available anywhere on items in the Kreem Products line, with low cost domestic and international shipping.
Additionally, the April issue of "Vintage Truck" magazine will carry a Kreem Products ad that offers special savings on Kreem Tank Liner and Kreem Tank Prep.
For further information, visit KreemProducts.net or call 1-866-711-0910.
###