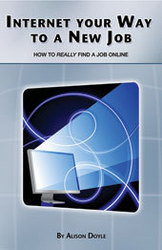 Many people think that looking for a job online is complicated and difficult. However, that's simply not true.
Cupertino, CA (PRWEB) March 24, 2008
How to find a job online - this question is answered by a new book by Alison Doyle, About.com's Job Search Guide (http://jobsearch.about.com).
Just a few years ago, your online job search was much easier. You could submit your resume online and start to see results. But that's not true of the job market today. With thousands of job search web sites, job seekers need to know how to effectively utilize the Internet.
Alison Doyle, author of a new book, "Internet Your Way to a New Job - How to Really Find a Job Online" (Happy About; $19.95, March 2008) points out that you can waste hours searching, and applying for jobs. Since most employers post jobs to one or two sites, targeting just a fewjob search sites isn't enough. The job market is becoming increasingly competitive, and has changed hiring practices which has changed job searching. Rather than just posting your resume on job sites like Monster, CareerBuilder, or HotJobs, you need to use all the online job search tools to your advantage.
The book will teach you what you what you need to know to navigate the new realities of a job search. Learn the process of online job searching and how to find a job using all the tools available online. Doyle uses her years of experience in the industry to deliver uncomplicated advice, tips, and techniques.
"I'm excited to bring this book to market as we expect it will directly contribute to thousands of individuals finding new jobs. What greater value can one give back to society" says Mitchell Levy, CEO of book publisher Happy About.
"There is a misperception that people don't really find jobs online - which is simply not true," notes Doyle. From job search web sites like to niche sites and job search engines, along with the social networking sites, you need a guide. According to Doyle, the biggest mistake people make when looking for a job online is posting their resume online and waiting for employers to come to them. What should they do instead? "Many people think that looking for a job online is complicated and difficult. However, that's simply not true." Doyle notes. You can learn how to find a job utilizing everything from large job sites to social and professional networking sites like Facebook and LinkedIn.
About the Author
Alison Doyle is a job search expert with many years of experience in human resources, career development, and job searching, with a focus on online job searching and job search technology. Doyle has been the Guide for the About Job Searching (http://jobsearch.about.com) site since 1998. In addition, Doyle has spent the last sixteen years in a college career services office, currently as Associate Director for Information Technology at Skidmore College developing resources to assist students and alumni with their search for a job or internship. She is the author of the About.com Guide to Job Searching (2006) and writes and consults on these topics. More information is available at http://alisondoyle.com.
About Happy About®
Happy About® books deliver wisdom. Our books are smaller, compact, high-impact reads that are typically 100-150 pages and are delivered in paperback, eBook, or podbook format. Visit http://happyabout.info for more info. For quantity discounts, please contact the publisher, Mitchell Levy at 408-257-3000.
###