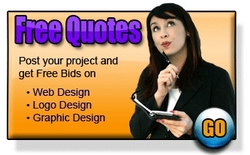 We plan on taking the things we learned with DesingQuote and applying it to other industries. Our focus is on taking a niche market and providing specialist with quality leads. We provide designers with low cost marketing services, so they can concentrate on their design work. We can do the same for other industries
Atlanta, GA (PRWEB) March 19, 2008
In just over a year, DesignQuote has changed the way many designers do business. Designquote has brokered over 4,000 design projects since its launch in November of 2006. It posts an average of over 100 new projects every week.
DesignQuote has metamorphosized the very fabric of graphic design jobs. With the virtually impossible combination of high quality web design talent and affordable solutions the company recently brokered $3.5 million worth of work in 2007 alone. In an industry where facts speak more than self touted promotions, Design Quote stands out as a clear winner.
Many IT companies are realizing that while amateur designers might save on costs, they end up doing a shabby job. This results in significant losses in terms of overall revenues and ROI. This is why an increasing number of companies are now looking at high end professional web design services irrespective of the costs involved. Design Quote has been able to provide not just high quality web design leads but also at very affordable rates.
As per their intensive research and findings, Design Quote found that there was a large disconnect between IT companies and professional web designers. While companies found it difficult to recruit the right kind of web design talent, professional designers found it tough to find graphic design jobs that were in accordance with their competencies. In order to bridge this disconnect, Design Quote was established. Today, Design Quote has managed to successfully bridge the gap between finding the right web design leads and mapping them to the respective competent designers.
The site has been running for more than a year now and in this relatively short span of time it has been able to provide lucrative graphic design jobs for professional web designers. Their database spans more than 21,000 designers who actively participate in various projects and the range of services is also extensive. Right from e-commerce solutions to web programming, website redesign and software development as well as front end modification of websites - Design Quote has been able to deliver on all these aspects.
One of the highlights of Design Quote is that its services are completely free of cost. It does not charge any fee or commission as part of its services. Clients are able to post projects free of charge and in turn, they receive free quotes from potential designers.
The professional designers in turn receive plenty of web design leads on a daily basis and pay only a small fee per lead. Thus Design Quote is an effective platform for both clients to get high quality services as well as for professional designers to leverage lucrative assignments. In an industry where high quality is preferred over cost savings - a site like Design Quote holds tremendous importance and value.
The DesignQuote system allows providers to purchase just the leads and projects they want to bid on using the patent pending LeadCredit system. Designers purchase credits which they then exchange for leads, once a specific job sells out, no more providers can purchase the lead. Patent Pending No. 60/929,824 (July 2007)
DesignQuote partners with several high-profile web portals to get the highest quality leads available.
Some of DesignQuotes partners are:
Freelance Designers
FreelanceDesigners.com is one of the largest and most popular freelance directories in the world. The site boast over 20,000 registered freelance providers and connects over 3000 potential clients every single day! it has become the prime destination for people looking to hire freelancers. It features several disciplines including web design, graphic design, writers, programmers, and more.
FreelanceDesigners.com is a great way to reach new design customers. With over 145,000 unique visitors every month and over 1.1 million page views monthly, that is over 4,500 unique visitors each day.
WebDesigners-Directory.com
This Web Design Directory is a national directory of 4,714 web designers. Locate web designers and web design companies by state or listed by skill. Listings for designers are free. If you design web sites you can list your company and upload your logo. Designers are categorized by state or by web design skills such as PHP, CSS, ASP, XHTML, MySQL, Coldfusion, dreamweaver, AJAX, Web 2.0 and more.
FreelanceJobSearch.com
Daily listing of freelance jobs. Freelance Jobs
DesignCreme.com
Design Creme is a gallery of beautiful css and flash sites. We showcase the best designs only! This is your inspiration source.
Vexcom, Inc. is the parent company that developed DesignQuote.net and they also manage several other high-profile websites.
Vexcom, Inc. is also preparing to build portals for other industries and markets. In the fourth quarter of 2008 they will be launching VacationRoad to feature vacation properties for rent. A wiki-type community driven city guide,MyCityGuide.net which allows anyone to add locations on their city or review existing locations such as restaurants, museums, nightclubs and shops. Vexcom has also recently started offering SEO services
"We plan on taking the things we learned with DesingQuote and applying it to other industries. Our focus is on taking a niche market and providing specialist with quality leads. We provide designers with low cost marketing services, so they can concentrate on their design work. We can do the same for other industries" says Joe Sado, Client Relations Manager
Vexcom
Vexcom's corporate headquarters are located in Roswell, GA just north of Atlanta. Since 1996, The Vexcom team has been developing interactive database driven web applications and custom web software. Vexcom is composed of leaders in a wide range of internet technology fields. Vexcom is a full service consulting firm, coordinating project management, programming, design, hosting, system management, and maintenance.
###