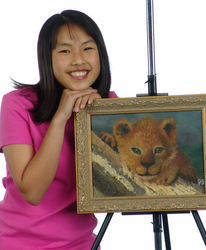 More than half are under the age of 17. We have hundreds of beautiful drawings and paintings that deserve to be showcased
Los Angeles, CA (PRWEB) March 27, 2008
Mission: Renaissance launched a fine art gallery March 27, 2008 featuring watercolor, oil paint, charcoal sketches, and pastel drawings from young students participating in their fine arts program.
The online youth gallery currently features a wide variety of original fine art work from their child and teen art students, as well as examples of student drawing and painting exercises.
As of now the gallery featuring the underage artists has 53 works of art and according to the CEO of Mission Renaissance - Ted Prescott - that figure is going to grow weekly.
"Every week we have more than 3,000 fine art students learning how to draw and paint in our fine art instruction studios located in Southern California and Canada. We also have countless others studying via our Art of Drawing home instruction series," said Prescott.
"More than half are under the age of 17. We have hundreds of beautiful drawings and paintings that deserve to be showcased," Prescott continues. "For now we are releasing 53 student drawings and paintings for public viewing in our online child and teen fine art gallery. We will be adding many more works of art to our student art galleries in the near future, including a separate adult fine art gallery."
The idea of adding an online student gallery to the Mission: Renaissance website came to Mr. Prescott when observing the positive feedback received by patrons of the Burbank International Airport.
In 2001 the airport gave Mission: Renaissance the opportunity to publicly display their student's artwork as part of a post 9/11 project.
The showing was so successful that the drawings and paintings were
rotated with new student works on a semi-annual basis for more than five years.
"We were really pleased with the public's reaction to our young students work. People were not only impressed with the quality of the artwork, but were also impressed with the age of the artists. Some of the artworks are from children as young as 4 years old. The idea to put our students artwork up on our website in the form of an online fine art gallery made perfect sense," states Prescott. "If people from all over the world enjoy viewing our student's art work at an international airport, then the next step should be to ensure people can enjoy seeing our students artwork online, thus giving our students a wider scope of exposure of their art," said Prescott.
You can view the child and teen student art gallery by visiting the Mission: Renaissance student gallery page.
Mission: Renaissance was founded by renown fine artist Larry Gluck in 1975. Mr. Gluck developed the drawing and painting instruction system
known as "The Gluck Method".
###