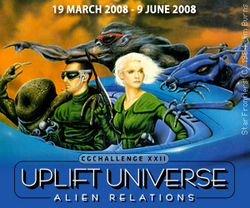 Once again we are also thrilled to have a stellar set of sponsors. They have combined to offer the largest prize pool we have ever had - over $100,000 U.S. in value. I believe that it's the largest prize pool for any similar contest in the world
(PRWEB) March 19, 2008
The CGSociety launches the largest CGChallenge ever, with over $100,000 U.S., in prizes.
In this, the 22nd CGChallenge, entrants are challenged to depict the relations between humans and aliens. Teams are invited to enter Videos while individual entrants can enter into either Image or Video categories. In addition there are nine special skills awards up for grabs: Modeling, Texturing, Animation, Lighting, Visual Effects, Landscape/Matte Painting, Art Direction, Compositing and Editing, and Best Character.
The CGSociety has teamed up with internationally acclaimed author David Brin for this challenge. As an author and scientist David is no stranger to competitions, digital art or futurism. He has won three Hugo Awards (two for Best Novel). This includes the classic novel, "Startide Rising" which won Nebula, Hugo, and LOCUS Awards for Best Novel in one year! "The Postman" movie with Kevin Costner was based on David's novel of the same name and "Startide Rising" is in pre-production. David's 1989 thriller "Earth" also foresaw both global warming and the future World Wide Web.
"David Brin is a master writer. His 'Uplift Universe' is one of Science Fiction's outstanding, and highly awarded, series and is based on human-alien relations," said Mark Snoswell, President of the CGSociety. "We are thrilled to give entrants the opportunity to work on this property - although they don't have to. David has provided a wealth of information on his books and exclusive new materials for this competition". David has offered the vast resource of his 'Uplift Universe' series as reference and inspiration for entrants to the Challenge. He will also join the judging panel.
"Once again we are also thrilled to have a stellar set of sponsors. They have combined to offer the largest prize pool we have ever had - over $100,000 U.S. in value. I believe that it's the largest prize pool for any similar contest in the world," said Snoswell.
The Challenge opens on Wednesday March 19, 2008.
Both Image and Video categories will commence at the same time but they will run for different periods of time:

The Image category will run for 8 weeks. Finishing on Monday May 12, 2008.
The Video categories will run for 12 weeks. Finishing on Monday June 9, 2008.
For more information on Challenge XXII click here http://features.cgsociety.org/challenge/uplift_universe/
For more information on previous Challenges click here http://features.cgsociety.org/challenge/
Challenge Sponsors:
The Uplift Universe Challenge is sponsored by BOXX Technologies, SOFTIMAGE, NVIDIA, Autodesk, Pixologic, Luxology, e-on Software, REALVIZ, Corel, Stash, Gnomon Workshop and Ballistic Publishing.
About The CGSociety:
The CGSociety is the most respected and accessible global organization for creative digital artists. The CGSociety supports artists at every level by offering a range of services to connect, inform, educate and promote, by celebrating achievement, excellence and innovation in all aspects of digital art. The CGSociety, along with its sister organisation Ballistic Publishing, is a division of Ballistic Media.
http://www.cgsociety.org
http://www.ballisticpublishing.com
Press Contact:
Annie O'Neill
Manager, Marketing & Brand Development
Ballistic Publishing
134 Gilbert Street
Adelaide, South Australia 5000
Tel: +61-8-8463-1866
Fax: +61-8-8212-8255
http://www.ballisticpublishing.com
http://www.cgsociety.org
###