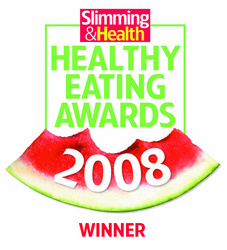 With growing obesity rates both here and overseas, it is important to help provide people with solutions to their ongoing snacking dilemmas
Australia (PRWEB) March 19, 2008
It seems Slim Secrets are no longer just that, taking out two of the highly contested Slimming & Health Healthy Eating Awards for 2008 -- best weight management product and best healthy snack.
For those who aren't in on the secret, Slim Secrets snack bars are a range of healthy, solutions-focused snacks that not only look great but are great for you with their unique combination of nutritional ingredients.
In fact, Slim Secrets are so hot right now they were recently seen in the hands of this year's Oscar attendees including Britney Spears' recent squeeze paparazzo Adnan Ghalib, the nosey old neighbour from Desperate Housewives Kathy Joosten, Day of our lives Deidre Hall and Jai Rodriguez from Queer Eye for the Straight Guy.
Slim Secrets founder and director Sharon Thurin said the awards were a major win for Slim Secrets as a new product range and also as a young up-and-coming business.
"It's fantastic that our clients have recognised Slim Secrets products are both a healthy snack alternative and a tasty weight management product when used in conjunction with a healthy lifestyle," Ms Thurin said.
To receive a stamp of approval on both the bar's nutritional benefits and taste is the ultimate reward for Slim Secrets and indicates that in a crowded snack food market they have managed to find a much needed niche.
"The success is beyond our wildest dreams and inspires us to find new and healthy snack alternatives in the future.
"With growing obesity rates both here and overseas, it is important to help provide people with solutions to their ongoing snacking dilemmas," she said.
As a result, Slim Secrets recently added a new range of snacking solutions to its family, Nutrient Secrets, which is one of the first nutrition bars to harness the power of a variety of nutrients to promote their antioxidant properties.
This year, Slimming & Health magazine received thousands of votes from readers around Australia and is the country's only competition for healthy eating voted for by consumers.
With a nutritional profile better than most snack bars, Slim Secrets clearly won't stay secret for long.
For additional product information please visit http://www.slimsecrets.com.au
###