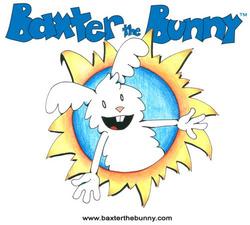 The Internet makes it possible for an increasing number of pet owners to share their experiences with their pets with the world through videos, blogs and other forms of online media
Atlanta, GA (PRWEB) March 19, 2008
Not long after Atlanta area couple Kim and Ernie Martin brought their pet English Angora rabbit home, they found themselves creating humorous stories based on their pet's personality. Friends and family found the stories of the inquisitive bunny so entertaining that the couple decided to create an online cartoon about him. After designing and building an inviting website at baxterthebunny.com, the character was born. Now the couple is giving one lucky winner a chance to be featured in the cartoon alongside comical and quirky Baxter and share in the adventures that the world's most unusual English Angora rabbit and his friends have each week.
Visitors to baxterthebunny.com will have an opportunity to enter the Baxter the Bunny "You Are the Star" contest by simply submitting a completed online entry form between Tuesday, March 18 and Friday, April 25, 2008. There are various prizes to be won and the grand prize winner will receive an Apple iPod Touch, their likeness featured in an upcoming Baxter the Bunny cartoon story and a t-shirt and poster featuring that cartoon. No purchase is necessary and contestants may enter as often as they like, but may not enter more than once per day. A winner will be selected at random and announced during the week of May 5, 2008 in conjunction with National Pet Week.
According to the 2007-2008 National Pet Owners Survey, 63% of U.S. households own a pet. And while many pet owners have reported giving their pets birthday and holiday presents and carrying photos of their pets in their wallets, Kim and Ernie Martin are probably one of the first couples to develop a weekly online cartoon about their bunny.
"The Internet makes it possible for an increasing number of pet owners to share their experiences with their pets with the world through videos, blogs and other forms of online media," says Kim Martin. "We've had an absolute blast creating cartoons inspired by our experiences with our bunny and publishing them on the web for others to enjoy."
Baxterthebunny.com launched in September 2007. Since then, a loyal following flocks to the website each week to read about the antics surrounding Baxter and the other characters featured in the cartoon. In addition to Baxter, the cartoon chronicles the lives of his owners, an all-American couple named Jeff and Brenda; Baxter's best friend, a chipmunk named Chatter Box; and Baxter's arch nemesis Evil Kitty, a diabolical kitten who lives across the street.
"We're excited about sharing the Baxter the Bunny cartoon with more and more people and giving them a chance to be involved in one of our cartoon stories," says Kim Martin. "The contest is just one of many ways we can bring Baxter the Bunny fans closer to the cartoon character."
For more information about Baxter the Bunny as well as the "You Are the Star" contest, visit http://www.baxterthebunny.com.
About Baxter the Bunny
To see Baxter the Bunny weekly cartoon stories, as well as cartoon stories from the archive, visit http://www.baxterthebunny.com. To contact the creators of Baxter the Bunny, send an email to info@baxterthebunny.com or correspondence to Baxter the Bunny c/o Persuasion Communications Group, Inc. P.O. Box 697, Jonesboro, GA 30237. Baxter the Bunny, Jeff, Brenda, Chatter Box and Evil Kitty are trademarks of Persuasion Communications Group, Inc.
###