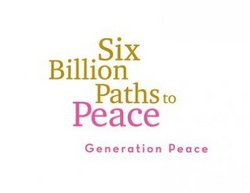 At the Shinnyo-en Foundation, we believe that our new initiative, Six Billion Paths to Peace, will raise awareness that we live in an interconnected world where our everyday actions impact one another
New York, NY (PRWEB) March 20, 2008
The Shinnyo-en Foundation today launched the Six Billion Paths to Peace initiative globally, encouraging all people to pledge their commitment to promote harmony and peace through meaningful acts of service. In one year, the Shinnyo-en Foundation hopes to have inspired one million people to pledge their Path to Peace. To commemorate the launch, a full-day "Path to Peace" event in Times Square invites the public to consider the daily contributions they can make to create a more harmonious world. Following the activities in Times Square, the evening's Pathfinders to Peace Awards Gala and Forum will convene hundreds of leaders from the philanthropic, academic, religious, business, political, artistic, and cultural communities to illuminate, exemplify, and amplify their commitments and contributions to their communities.
Six Billion Paths to Peace, the newest initiative of the Shinnyo-en Foundation, is intended to raise the awareness of all six billion people on this planet on how the daily actions they take can lead to peace. The effort is focused on inspiring people to concentrate on our interconnectedness and becoming aware of the individual contributions that each of us are already making that lead to a more harmonious world.
Each person has their own unique Path to Peace, and the power to bring harmony into their lives, their relationships and their communities. On March 20th, participants in New York City can make their pledge at the Path to Peace in Times Square, while people worldwide can join virtually via http://www.sixbillionpaths.org, where they can submit their own thoughts about finding a personal Path to Peace and view streaming video of the Times Square event. All day on March 20th, individuals have the opportunity to submit their own Path to Peace for display on the Reuters interactive screen high above Times Square. Simply text PEACE to 334455 and reply to the message received with your personal path. After March 20th, people in New York City and around the world will be pledge a Path to Peace and check on progress towards the one million mark via http://www.sixbillionpaths.org.
In a recent nationwide survey commissioned by the Shinnyo-en Foundation, 69 percent of people already believe individual acts of kindness promote a sense of peace in their communities.
"At the Shinnyo-en Foundation, we believe that our new initiative, Six Billion Paths to Peace, will raise awareness that we live in an interconnected world where our everyday actions impact one another," said Haru Inouye, Executive Director of the Shinnyo-en Foundation. "New York, with its diversity, is the perfect place to launch this initiative. By inspiring people to look within themselves and at their surroundings, to their families, friends, and communities, we hope to lead to peace and happiness for all six billion people on our planet."
Path to Peace in Times Square
The day begins with a literal Path to Peace constructed in the heart of Times Square - one of the busiest places on earth. The Path to Peace, open to the public from 7 a.m. to 6 p.m. EST, is a lush garden oasis amidst the bustle of New York City, demonstrating that no matter where you are or who you are, it is possible to find and create peace.
Celebrities and dignitaries, including Mr. Inouye, Henry Lozano (Deputy Assistant to President Bush and Director of USA Freedom Corps), and Bianca Ryan (winner of America's Got Talent), will lay the final stones to complete the actual Path to Peace on Military Island in Times Square. Ms. Ryan will also perform at the event. The Kindred Spirits Children's Jazz Choir, a group of children drawn from three choirs around the metropolitan area, will perform throughout the morning. Several Shinnyo-en Foundation grantees and the general public will be encouraged to submit their personal Path to Peace, which can be as simple as committing to carpool with others or holding doors open for strangers.
Second Annual Pathfinders to Peace Awards Gala and Forum
On the evening of March 20th, the Shinnyo-en Foundation will host the Second Annual Pathfinders to Peace Awards Gala and Forum at New York's landmark Cipriani 42nd Street. At the gala, the 2008 Pathfinders to Peace will be honored for their service to society and share stories about their paths to improving their communities. This year's awardees are:

Morgan Freeman, Academy Award-winning actor and founder of PLAN!T NOW (an initiative supporting victims of and regions affected by natural disasters)
Mira Sorvino, Academy Award-winning actress and supporter of Amnesty International
Marc Ecko, fashion designer and founder of Sweat Equity Enterprises
Brett Hickey, founder of Acorn Charities
The evening will be attended by influential philanthropic and cultural leaders, including Mr. Lozano.
Six Billion Paths to Peace
Six Billion Paths to Peace is the newest initiative of the Shinnyo-en Foundation, designed to inspire people to focus on their interconnectedness and become more aware that their everyday actions may bring about a more peaceful world.
The Shinnyo-en Foundation is developing the Six Billion Paths to Peace initiative by building a community through gatherings, Web-based programs and interactions, and joint programs with its partners; communicating the principles, messages and benefits of this initiative through community outreach, events, speaking engagements and the media; and providing the tools to inspire individuals through workshops, retreats and online resources.
About The Shinnyo-En Foundation
The Shinnyo-en Foundation provides financial support, shares resources and partners with non-profit organizations to support education programs that engage and inspire young people in meaningful acts of service. The Foundation was established in 1994 as a philanthropic arm of Shinnyo-en, an international, lay Buddhist denomination whose members strive to live with the utmost sincerity and respect for others. The Foundation is a secular foundation focused on enabling individuals to improve their communities through service without regard to faith or background. For additional information, please visit http://www.sef.org.
###