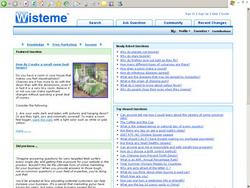 The free advertising on Wisteme is a key reward to attract professional contributors of content to Wisteme
Cary, NC (PRWEB) March 19, 2008
Wisteme, the wisdom system for everyone, has arrived with launch of Wisteme.com, a knowledge creation and management platform that provides a new venue for online advertising. The innovative, high-quality question and answer platform allows members to ask and answer questions, and offers free advertising in exchange for knowledge contribution.
The free advertising takes utilizes online advertising trends to encourage freelance writers, consultants, students, researchers, teachers and other experts, as well as small to medium size enterprises (SMEs), to contribute high quality content to the website. This creates a win-win situation for Wisteme and its members. The contributor benefits from free ad placement while Wisteme.com benefits from the inclusion of relevant, expert content.
"The free advertising on Wisteme is a key reward to attract professional contributors of content to Wisteme," says Co-founder and Chief Operations Officer, W. Zhang, "Investing a few minutes now to make a contribution of knowledge to Wisteme will pay great benefits long into the future." In addition to permanent ad placement, Wisteme.com also encourages contribution by offering ad revenue sharing in which the contributor earns part of the advertising revenue generated directly from that content. Contributors are able to earn money based on the page views associated with their content.
The result is a premium knowledge creation and management platform and a first-rate place to ask and answer questions. Wisteme utilizes patent pending technology to enhance question search capabilities as well as collaboration management. Membership is open to everyone, and is free of charge.
"Wisteme offers a convenient and flexible platform for a business, organization, professional association, or general interest group to develop and maintain a virtual list of Frequently Asked Questions," says Co-founder and Chief Technical Officer, Y. Li. "Any registered knowledge contributor can log in, create a new group, give the group a relevant name, and start contributing FAQs. Contributors can link from Facebook, MySpace, and other social networking sites to a specific group on Wisteme."
Information available at Wisteme.com ranges from the invention of the ball point pen to how to make a room look large without stretching one's budget. If members are looking for information that is not currently listed on the website, they can easily ask and find the answer.
The founders of Wisteme believe that people around the globe can work together to build a knowledge system that will benefit us today, and for generations to come. To begin learning and/or taking advantage of online advertising trends, visit Wisteme.com.
About Wisteme:
Wisteme is a web-based knowledge and creation management platform located online at Wisteme.com. The management team has a combined 44 years experience in IT research and development, as well as 25 years experience in sales, marketing, cross-functional team management, and business development.
###