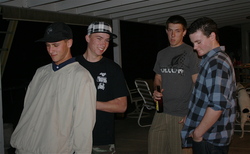 Orange County, CA (PRWEB) March 19, 2008
New Skool Kings is OC California's teenage punk rock band stirring it up and carrying the torch for the next generation of OC punk rock. Debuting their first full album and music video with a CD release party March 29th, 2008.
The real deal: New Skool Kings has been stirring up trouble for years. At the ages of 16- 19, they have supported bands such as Guttermouth, Agent Orange, Duane Peters, The Briggs, Pistol Grip, The Smut Peddlers and many others. Filming their first music video for "Authority", last spring in Costa Rica and working on their first full album for 2 years with producers Keri Kelli of Alice Cooper and Scott Sheldon of Guttermouth, New Skool Kings is ready to let the public hear the album.
"Here to Stay" can be purchased at http://www.cdbaby.com and ring tones will be available soon on all the major outlets.
New Skool Kings is having a CD release party March 29th 2008 at Mirror Image Studios (http://www.mirrorimagestudios.net), in Anaheim. Tickets are $10 at the door and there will be many giveaways such as skateboard decks, shirts, stickers, tattoos and more. Support bands will begin at 8:30 with New Skool Kings hitting the stage at 10:30. Visit http://www.myspace.com/newskoolkings for music, video and tour dates. Check these kids out, they are entertaining.
# # #