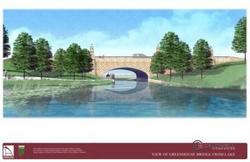 The Hamilton Hills bridge project is going to be a beautiful addition to the Towne Lake development. We're constructing another bridge on Greenhouse Road, so we're very pleased to be in the bridge building mode
Houston, TX (PRWEB) March 19, 2008
Caldwell Companies announced today that it is beginning bridge construction on Hamilton Hills, a two-lane road that runs through the Towne Lake community. The bridge, architecturally enhanced and custom designed by Realto Studios, will feature a 42-foot span with decorative rails and decorative handrails. The bridge will also feature a pedestrian walkway under the span and the walkway will continue along the shoreline of the community lake. There will be a 12-foot clearance from the normal water level enabling smaller boats to travel safely under the bridge.
The forecasted project cost is $1.45 million, and the estimated construction completion for the Hamilton Hills Bridge is by the end June of 2008.
"The Hamilton Hills bridge project is going to be a beautiful addition to the Towne Lake development. We're constructing another bridge on Greenhouse Road, so we're very pleased to be in the bridge building mode," said Fred Caldwell, CEO of Caldwell Companies. "The other great thing is an identical bridge will be constructed when the traffic needs expand to four lanes on Greenhouse. This will create a unique architectural focal point in the community."
About Caldwell Companies
Founded in 1991, Caldwell Companies is a fully integrated real estate services and development firm that creates 'communities' of single-family, multi-family, office, industrial, and retail assets. The company also provides land and commercial marketing services; using every opportunity to enhance people's lives where they work and live, The firm is committed to honoring God by stewarding resources, cultivating relationships and building communities that enrich lives. For more information, contact: http://www.Townelaketexas.com or Caldwell Companies at http://www.caldwellcos.com/ or call 281.256.2772.
# # #