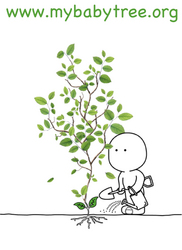 Jakarta, Indonesia (PRWEB) March 19, 2008
Here's a website idea that is crossing over and having a real impact on real world climate change issues. Everytime you plant an animated tree on this site, a real baby tree comes to life in the Indonesian rainforest. And for the first time ever, you can see real time proof -- pictures, exact co-ordinates and your name on your baby tree.
Indonesia's rainforest is one of the most important centers of biodiversity in the world. But 2 football fields disappear every minute.
But now people can plant a cute little animated tree online at http://www.mybabytree.org and WWF plants a real one in Sebangau, Kalimantan.
But what's really cool is this - Thanks to Geotag technology, for the first time, they can see the exact location of their tree, photos and their personally named tree on Google Earth!
For just 5$ (which pays for the nursery, land and care from local communities) through a secure paypal transaction one of the last remaining rainforests can be saved one baby tree at a time.
Top Indonesian stars come out to show support for mybabytree and the good cause at a virtual tree planting event where they all plant a babytree online.
###