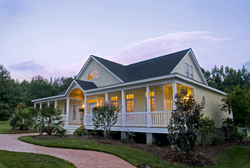 Today's modular homes rival any site-built structure in design and functionality.
Henderson, NC (PRWEB) March 20, 2008
Homebuilders are learning that there is a very 'green' side to modular homes. Factory-built homes are more "green" than most site-built homes. Steven Winter, of Steven Winter Associates, is chairman of the U.S. Green Building Council's LEED for Homes program which, rates homes for green certification on a number of criteria. Says Winter, "Because they're built in a factory and much of the lumber is pre-cut, there is less scrap and waste; the cut-off pieces are often ground up and recycled; the central location of a factory means no wasted transportation to get workers to an isolated job site, so there's a savings in fuel and energy. So, in a whole array of material savings attributes, time saving attributes, energy savings attributes, systems built homes go a long way toward achieving green objectives."
The National Association of Home Builders credits modular homes as being one of the fastest-growing segments of the residential construction industry, growing by 48% from 1992 - 2002. In 2004, a reported 42,700 modular homes were built in the United States, and in the northeast, modulars account for 1 out of every 10 homes built.
Modular homes - homes assembled as modules in a factory, then trucked to a home site to be assembled, are doing for the housing industry what ol' Henry did for the automobile - building them better, faster, and for less money than site built homes.
According to Chris Bailey, Director of Sales and Marketing for HandCrafted Homes a modular home producer in Henderson, NC, "Mobile homes are built to a different set of codes. The frame that the wheels are attached to for moving a manufactured home is permanently attached to the unit, so the codes and the construction are more like those of an RV than a permanent home. Modular homes, once they're set in place on a permanent foundation, aren't expected to move again. They have to meet all the codes of a site-built home, and sometimes more."
Looking at the finished products you might never be able to tell the difference between a modular and a site-built home. All the amenities that you would expect to find in a custom site-built home can be included in a modular, even higher-end features such as granite countertops, custom cabinetry, hardwood floors and spa tubs. The big differences are more in the how the home is constructed and the time it takes to build.
"Building a modular home is more like a surgical insertion - you put the foundation in and set the modules in place with a crane. Neighbors leave for work in the morning looking at a bare foundation and come home that evening to see a house - with windows, doors, roof and nearly-finished interior," says Bill Murray, General Manager of HandCrafted Homes, LLC. The "buttoning up" process - connecting the utilities, finish grading and landscaping, and some interior finish work is all that's left. In many cases, even the appliances are installed at the factory.
Speed of construction isn't the only reason modular homes are gaining in popularity. The brochure Modular Homes: The New Face of Home Building, produced by the Modular Building Systems Council, sites quality control, cost control, and energy efficiency as areas in which factory-built homes excel.
If there was a down side to modular homes, it was that the home had to be designed to be built in components and that they looked, well, modular. That no longer seems to be the case. The demand for greater character and individuality has prompted modular producers to continue to become more innovative in their designs and styles. Again quoting from the brochure Modular Homes: The New Face of Home Building, "Today's modular homes rival any site-built structure in design and functionality."
While the building business has experienced a slowdown over the recent year, HandCrafted Homes is busier than ever, largely due to the speed in which a modular home can be designed, delivered and completed. "We're getting more leads than we can effectively take care of, so we're passing leads over to our modular suppliers and other dealers in the region." Murray ads.
HandCrafted Homes, LLC offers guided tours each Saturday at 10:00am at their manufacturing facility in Hendersonville, NC. HandCrafted Homes, LLC will show you the advantages of modular construction and how you can benefit with this type of construction.
Resources:
Bill Murray
General Manager
HandCrafted Homes, LLC
101 Eastern Minerals Road
Henderson, NC 27536
252.436.0001 x101
252.430.6662 fax
http://www.handcraftedhomes.com
bmurray(at)handcraftedhomes.com
###