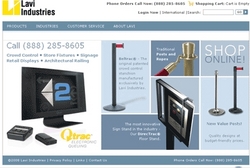 Valencia, CA (PRWEB) March 20, 2008
Lavi Industries, a leader in public guidance and crowd control equipment and solutions, announces the release of its Qtrac Electronic Queuing System at Global Shop 2008.
Qtrac is a wireless electronic call forward system that streamlines customer flow, extends brand awareness, supplements advertising programs, and entertains customers while providing them with useful information. The core of the system is an integrated computer and video display. The display can show videos or slideshows between queuing messages. Queuing messages can be either standard or customized to ensure proper direction of customers to available agents.
These agents, including cashiers, tellers, or other service representatives, call customers forward using a well designed wireless remote. Alternately, a USB remote can integrate with existing POS systems to increase call forward efficiency.
Qtrac has an open architecture, which makes it highly customizable. However, the default configuration is ready to use right out of the box. Wireless controllers easily integrate with the system to facilitate customer friendly signal lights and displays to guide customers to the proper agent.
The FlexiQ feature allows agents to draw from multiple queues. For example, a returns cashier can draw from the sales line if there are no returns customers available. Qtrac is great for retail stores, banks, airports, and anywhere customers line up for service.
Joseph Shenberger, Director of Business Development for Lavi Industries, explains, "Qtrac Electronic Queuing systems are modular with very low cost of acquisition and operation. Adding the performance characteristics of Qtrac to your business is plug-and-play simple, requiring no facility alterations and no need for expensive professional installation."
Greg Weiss, Chief Operating Officer for Lavi Industries, says, "We have showed the system to some of our existing customers in retail and banking and we are extremely pleased with the response. We have received great feedback on how the Qtrac system will increase efficiency and customer satisfaction. Marketing managers love the idea of showing brand building and promotional media while their customers wait in queue."
To learn more about this electronic call forwarding system or other crowd control equipment, please visit http://www.lavi.com/.
About Lavi Industries:
Gavriel Lavi founded Lavi Industries in 1979. First located in California, Lavi Industries specialized in the selling of decorative home and office products. The company has evolved into a leading manufacturer of commercial architectural products including hospitality supplies, signage, crowd control stanchions, queuing equipment, and more. Lavi Industries wide range of clients include airlines, schools, hotels, restaurants, retail stores, museums, theatres, convention centers, and arenas. With affiliate companies, Lido Designs, Inc., Via Guide GmbH, and Q-Display, the Lavi vision is able to stretch from the United States to South Africa to Germany.
###