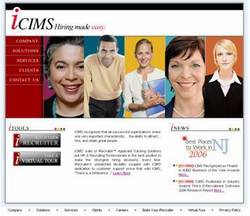 Our ongoing Webinar series provides a great opportunity for iCIMS' Support team and extensive network of partners to come together and provide best practices to our client base
Hazlet, NJ (PRWEB) March 20, 2008
The award-winning Software-as-a-Service (SaaS) company, iCIMS, today announced that it has moved beyond the standard approach to customer service, offering complimentary and educational Training Webinars for all users of the company's Talent Platform. Most recently, iCIMS co-hosted a Webinar on best practices in recruitment search engine marketing and the candidate experience.
The Webinar series titled, "Identifying Opportunities in Job Search: Using Keywords and Competitive Research Tools to Uncover Opportunities," taught clients how search engine marketing and competitive research can be used to improve the candidate experience and overall recruitment efforts. Wil Reynolds, founder of SEER Interactive, a leading independent Search Engine Optimization company, led the discussion. During the Webinar, Reynolds explained how candidates use search tool bar suggestions to locate job opportunities and gave insight on the value of search engine rankings. Clients were also provided with tips and tools to improve their own search engine techniques.
Search Engine Optimization (SEO) remains a hot topic in human resources, as more companies realize the implications that search engine results can have on marketing efforts and brand perceptions. According to industry experts such as Reynolds, understanding SEO and applying best practices is crucial in raising company visibility and Career Center traffic.
"The SEO Webinar was the most popular and well-attended Webinar in iCIMS history," said Andrew Curtis, iCIMS' Director of Customer Support. "Our partner at SEER Interactive showed clients how they can leverage existing Internet tools and technology within the iCIMS Talent Platform to broadcast their recruitment brand and expand their candidate reach."
Clients may configure their Talent Platform to allow for easy search engine indexing, maximizing Career Center traffic. In addition, iRecruiter's powerful and easy-to-use Candidate Relationship Management (CRM) tools help provide a positive candidate and recruiter experience during the talent courting, acquisition, and onboarding processes.
"Our ongoing Webinar series provides a great opportunity for iCIMS' Support team and extensive network of partners to come together and provide best practices to our client base," Andrew Curtis said. "These sessions allow clients to learn progressive methods of tackling business challenges by leveraging the iRecruiter™ Talent Platform and by tapping into industry expertise."
Occurring twice a week, Training Webinars are designed to promote client knowledge on relevant human resources industry topics. iCIMS gives clients the unique opportunity to learn best practices in recruitment and talent management from key industry experts. Training Webinars are just one example of the proactive and reactive services and offerings iCIMS provides its over 500 clients. Aside from complimentary and ongoing training sessions, iCIMS offers multi-tiered support as well as phone assistance 24 hours a day, Monday-Friday. Additionally, all iRecruiter users have access to iCIMS' Customer Care Website, an interactive networking forum where clients can exchange best practices, download industry materials, and receive system tips.
About iCIMS
iCIMS, a leading Software-as-a-Service (SaaS) provider, is an Inc. 500 honoree focused on solving corporate business issues through the implementation of easy-to-use web-based software solutions. iCIMS' iRecruiter, the industry's premier Talent Platform, enables organizations to manage their entire talent lifecycle from applicant tracking through onboarding and beyond through a single web-based application. With more than 500 clients worldwide, iCIMS is one of the largest and fastest-growing talent management system providers in the space. To learn more about how iRecruiter can help your organization, visit http://www.icims.com or view a free online demo of iRecruiter at http://www.icims.com/demo.
Trademarks and registered trademarks contained herein remain the property of their respective owners.
This press release was distributed through eMediawire by Human Resources Marketer (HR Marketer: http://www.HRmarketer.com) on behalf of the company listed above.
###