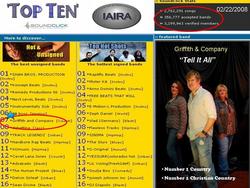 We weren't having any trouble getting them booked to start with, but after this record has hit the national charts, I am getting more calls for them than just about anyone else
Brentwood, TN (PRWEB) March 21, 2008
Century 2 Entertainment along with the Rick Hendrix Company are excited to announce the successful launch of one of America's hottest new Christian recording artist, Griffith and Company. The group's new single, "Tell It All" was released in late February and has made its debut into the March issue of the "Singing News Charts". According to Marty Lyon, President of the prestigious Nashville talent agency, Century 2 Entertainment, demand for the group to make public appearances has more than tripled what it was only a month ago. "We weren't having any trouble getting them booked to start with, but after this record has hit the national charts, I am getting more calls for them than just about anyone else," said Lyon.
"A lot's been happening for us lately and we are just so blessed to have such a powerhouse team behind us," said the Griffith and Company spokesman, Tony Griffith. "In only the last two months we've signed a major booking agreement, a national promotion contract, released a single and are finishing a new album getting ready for a tour in support of the new single". He continued by saying, "We've even had to hire a public relations company to help us with the media, so this is all very exciting for us right now."
In February Century 2 Entertainment made the decision to conduct an Internet test market of the new single "Tell It All" before releasing it to radio. In a matter of days Internet music tracking company SoundClick reported that of the 2,762,291 songs it was tracking, Griffith and Company, "Tell It All" was at Number 1 Country, Number 1 Christian Country, and Number 7 in all genres of music. (SoundClick 02/22/08). With the current radio release the recording has now made its way into the mainstream Christian music charts with a solid debut at number 64 in the Singing News (Singing News, March 08). "We expected the song to do well, but we could never have anticipated this type of response, it is just incredible" said Tony.
Century 2 Entertainment is currently in the process of putting together a national tour for Griffith and Company in support of "Tell It All". However, according to Marty Lyon, the agency will only be booking a limited number of dates in specific geographic areas as the demand for Griffith and Company has spread to a national level.
For bookings, radio servicing or media information please contact:
Century 2 Entertainment
9586 Liberty Church Road
Brentwood, TN 37027
ph: 615-469-7289
fax: 615-469-2115
###