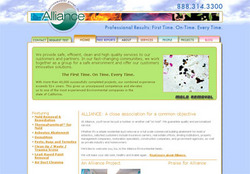 Our goal is to create a safe environment for you and your family
(PRWEB) March 20, 2008
Ensuring the health and safety of employees and family members is essential when creating a comfortable environment in which they can live and work every day. With the onset of Spring mold removal contractor Alliance Environmental Group announces "Cleaning out for Spring," mold removal services and efforts made to establish healthy environments within commercial and residential buildings.
"Our goal is to create a safe environment for you and your family," says Company Spokesperson Bill Wood. "Spring is the perfect time to check for dangerous mold that could be contributing to allergies and other unhealthy conditions in your building. We've developed a system of mold removal services including containment and removal of mold that will improve the environment in your building, creating a healthy atmosphere for you, your employees, your tenants, and your family."
This California-based mold remediation company covers all aspects of mold removal by educating business owners and homeowners regarding the dangers of toxic mold and the effects it can have on those exposed. They will work with Industrial Hygienists for analytical data to determine the proper course of action. Aggravating allergies and often triggering other ailments, mold is a proven serious health risk and must be dealt with immediately. Alliance employs innovative solutions for mold remediation and removal, promoting healthy air quality and reducing the risk of threatening health issues. Alliance's safe, efficient, clean, high quality services include Active Video Inspection with Air-Care Technology for Duct Cleaning, ICESonic CO2 blasting, and ThermaPure Heat.
Alliance mold removal services begin with a visual assessment to determine which remedial method will be the most effective. In some cases Alliance will refer an Industrial Hygienist to perform an analytical survey to determine the type of contaminant present and help develop a work plan to perform the remediation. Alliance also offers free reports on Indoor Air Quality, ThermaPure Heat, and choosing the right contractor.
"It is important for commercial property owners and homeowners to be aware of the health issues that mold can cause. Contacting Alliance is the first step they can take in ensuring the safety of the air quality in their business, home, or apartment building," Wood explains.
For more information about Alliance Environmental Group's mold removal services please visit Alliance-Enviro.com.
About Alliance Environmental Group:
Alliance Environmental Group is a mold remediation company that provides innovative solutions in the areas of asbestos, lead and mold abatement, demolition, air duct cleaning and emergency response. With 51 years of combined experience, Alliance has successfully completed more than 45,000 remediation projects ranging from bed bug elimination to residential mold removal in California and surrounding areas.
# # #