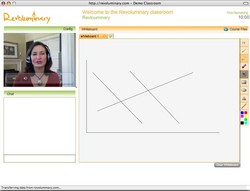 At Revoluminary, we are creating a global community of member driven online learning that is simple, profitable, and fun
San Francisco, CA (PRWEB) March 20, 2008
Revoluminary (http://www.revoluminary.com) announces the launch of a groundbreaking global tutor community designed to revolutionize the online education industry. Revoluminary's web site helps anyone meet, teach and learn face-to-face from anywhere in the word via an innovative virtual classroom, knowledge sharing tools, and comprehensive community based user platform.
Revoluminary is freeing people to learn what they want, when they want it, wherever they are. Revoluminary's web 3.0 platform liberates learning by combining the features of leading e-commerce and social networking sites with its highly innovative online classroom, allowing people around the world to quickly and easily connect face to face to discuss virtually any subject area. Revoluminary's community-based format frees every user to contribute new classes, discover new subjects, offer ratings and feedback, and to share their best ideas with other members.
For students, Revoluminary provides the convenience and flexibility to choose the classes and instructors best for their needs, schedule sessions whenever they want, and attend their online classes face to face from any location.
For instructors, Revoluminary provides immediate access to its cutting edge on line classroom. Revoluminary is a great way to earn money by tutoring students around the world from the comfort of home and without the hassles of marketing, scheduling, traveling, or follow-up payment collection. Revoluminary's complete platform offers total flexibility to list classes on any subject, provides comprehensive support (payment collection, scheduling, ratings and virtual classroom), and offers a superior technology platform to allow for effortless, time-efficient instruction. "At Revoluminary, we are creating a global community of member driven online learning that is simple, profitable, and fun," commented Peter Ackerson, one of Revoluminary's founding members.
"The Revoluminary community is passionate about helping people to learn and succeed," he added. "We genuinely believe that everyone, whether teaching or learning, can benefit from being a part of our community." Revoluminary's rapidly expanding base already boasts a growing selection of subjects that includes 12 different languages, all levels of mathematics, sciences and history, as well as classes on less traditional subjects such as personal hobbies, career assistance, and marathon and triathlon training.
At Revoluminary we believe that knowledge inspires and empowers, and we are committed to helping people everywhere share their knowledge and inspiration. Revoluminary enthusiastically welcomes everyone to join today at http://www.revoluminary.com.
About Revoluminary:
Revoluminary is a San Francisco based company that provides cutting edge technologies and tools that connect people and communities from around the world and help them teach, learn and succeed.
http://www.revoluminary.com
###