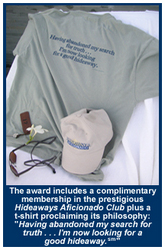 I have a feeling that, right about now, Mr. Spitzer might be looking for a special escape, and we have some great hideaways for him
Portsmouth, NH (PRWEB) March 20, 2008
Eliot Spitzer, ex-Governor of New York, has been named the latest recipient of the unique "I Need a Hideaway!" Award by the Hideaways Aficionado Club, the premier international luxury travel-planning service for discerning travelers who want to get away from it all.
"I have a feeling that, right about now, Mr. Spitzer might be looking for a special escape, and we have some great hideaways for him," says Mike Thiel, Hideaways' Founder/President. "We might suggest a private island resort in the Bahamas where they won't ask questions about how you spend your money. Or we know an exquisite little escape in Rio which rents luxurious suites and offers complete privacy and discretion."
Hideaways' staff scours the globe for its hidden vacation gems -- uncommon places to experience the exceptional while escaping the masses. As a club member, Spitzer will be privy to exclusive "insider information" -- all legal -- about the world's best lodgings and destinations. He'll also enjoy personal service -- again, totally legal -- to make his travel fantasies come true. Hideaways counts among its members and alumni Hollywood producers and entertainers, captains of industry, and best-selling authors, plus many ordinary folks who appreciate extraordinary vacations.
About the "I Need a Hideaway!" Award
This special honor is bestowed on public figures who've earned a well-deserved break by overcoming incredible adversity, or who need to escape the limelight they've earned through incredible misdeeds. Past winners of the "I Need a Hideaway!" Award include Al Gore, President Bill Clinton, "OJ" Simpson, and Mayor Rudolph Giuliani.
About Hideaways International and the Hideaways Aficionado® Club
Since 1979, Hideaways International, Inc. has been building community among discerning travelers with an interest in luxury and seclusion. Hideaways Aficionado Club members benefit from first-hand insider travel expertise, and receive preferred rates and VIP perks and privileges from international, best-of-kind hotels, resorts, cruises, and more, all of which have met Hideaways' high standards for comfort, character, and service. For more information, visit http://www.Hideaways.com, or call 800-843-4433.
Contact:
June Ahmed
603-430-4433 x142
pr@hideaways.com
###