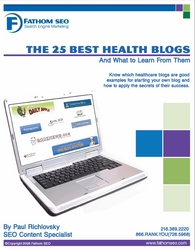 The worst thing you can do is make a blog that's a sales brochure. Nobody wants to read that.
Cleveland, OH (PRWEB) March 25, 2008
With more than 120,000 health blogs online today, some people may have a hard time differentiating between the heavyweights and the weaklings. A newly released guide, "The 25 Best Health Blogs," was created by Fathom SEO using simple criteria to name leaders in both popularity and content.
Eligible blogs for this list are written in English and exhibit:
** Frequent, regular posting (daily/near-daily)
** Quality design (readable, no overwhelming advertising/clutter)
** A distinct viewpoint
** Depth and breadth of health commentary
As a "best of" guide, The 25 Best Health Blogs is a how-to lesson in blogging done well. The prolific bloggers named on this list exemplify what makes blogs memorable and successful: original opinions and a design that's easy on the eyes.
"Business blogging isn't about selling your business. It's about connecting with your customers," says Jim Kukral, Internet video marketing specialist and blogging strategist. "The worst thing you can do is make a blog that's a sales brochure. Nobody wants to read that."
This newly released guide was created to help more than online healthcare marketing specialists. It can assist any business-minded person or bustling corporation in beginning the online promotion process. The guide is free and downloadable by visiting fathomseo.com/besthealthblogs
About Fathom SEO
Fathom SEO, located near Cleveland, Ohio, is an Internet marketing firm that offers SEO for healthcare websites, as well as those in other industries. In addition to natural Search Engine Optimization, it is a comprehensive provider of SEM services, including Online Video Production and Distribution, Online PR & Link Referral Building, Pay-Per-Click Management (PPC or Paid Search) and Opt-in Email Marketing.
###