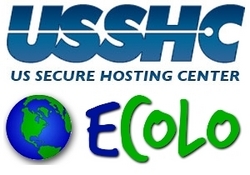 We are pleased to partner with USSHC and commend their commitment to furthering our service area's renewable energy growth
Monticello, IA (PRWEB) March 24, 2008
United States Secure Hosting Center (USSHC) announced today a new program designed to reduce the environmental impact associated with colocated equipment.
eColo (pronounced ECHO-low) is a program that allows USSHC colocation customers to choose to lower their impact on the environment without compromising the reliability of their colocated servers through the use of certified renewable energy.
It's the same electricity, the same power distribution systems, and the same reliability that all USSHC colocation customers receive. However, by enrolling in eColo, a USSHC customer will know that the energy their servers consume, both directly and indirectly due to power conditioning, cooling, and facility overhead has been accounted for and directly offset by the purchase of an equivalent amount of certified renewable energy.
When a customer enrolls in the eColo program, USSHC in turn buys the equivalent amount of certified renewable energy, plus overhead, from their primary energy supplier, Alliant Energy, through USSHC's participation in Alliant Energy's Second Nature program. As customers choose to participate in USSHC's eColo program, USSHC adjusts their Second Nature participation levels accordingly.
Second Nature is a program that allows utility residential and non-residential customers to pay a premium for a portion (up to 100 percent) of their electricity to ensure that that portion of their usage is derived from wind, solar, or landfill gas. Alliant Energy purchases the equivalent amount of renewable energy above and beyond what they normally use in their energy portfolio. This ensures that the energy used by Second Nature participants is directly offset by additional purchases of renewable energy. This directly increases demand for additional renewable energy and reduces demand for non-renewable energy.
"We are pleased to partner with USSHC and commend their commitment to furthering our service area's renewable energy growth," says Tom Aller, president of Interstate Power and Light. "By participating in The Second Nature Program, our customers are making an investment in their energy future. We look forward to working with USSHC in the future as our company pursues environmentally friendly alternative sources of energy."
"Alliant Energy's Second Nature program allows us to be a catalyst for change in the data center colocation industry," said Isaac Helgens, Project Director for USSHC. "No other program allows us to make an impact so quickly without making major changes to processes in place. We are able to able to reduce our ecological footprint and in doing so give our customers a more efficient alternative. USSHC hopes to set an example in our industry by promoting renewable energy sources as a viable replacement for standard energy."
The Second Nature program is Green-e Energy certified. Green-e Energy was established by the non-profit Center for Resource Solutions to provide information and an objective standard for consumers to compare renewable energy options, and to verify that consumers get what they pay for.
About USSHC
Established in 2003 to provide total redundancy for a local ISP, USSHC has expanded to offer full disaster recovery and collocation services to a wide variety of consumers. USSHC provides a full range of services from its secure data center in their military-built, hardened, underground facility. Designed to survive and operate normally during a major disaster, the facility has been a premier choice for leaders in internet services, technology startups, and Fortune 500 companies. USSHC is a privately held company based in Eastern Iowa.
About Alliant Energy
Alliant Energy is an energy-services provider with subsidiaries serving approximately 1 million electric and 400,000 natural gas customers. Providing its customers in the Midwest with regulated electric and natural gas service is the company's primary focus. Interstate Power and Light, the company's Iowa utility subsidiary headquartered in Cedar Rapids, Iowa, serves approximately 530,000 electric and 235,000 natural gas customers. Alliant Energy is a Fortune 1000 company traded on the New York Stock Exchange under the symbol LNT. For more information, visit the company's Web site at http://www.alliantenergy.com.
For more information regarding USSHC plans, pricing, and the eColo program please USSHC at 888-348-7742 or online at http://www.usshc.com/ecolo/ .
###