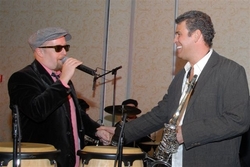 Take Me to the Pilot
Greenbelt, MD (PRWEB) March 24, 2008
The law firm of Joseph, Greenwald & Laake, PA (http://www.jgllaw.com) rang in its 40th anniversary with a long awaited charity gala on March 14, 2008 at the Greenbelt Marriott. "After close to four decades of working with this community, we wanted to celebrate the occasion by giving something back - and having a great time in the process, of course", said David Bulitt, the event's organizer and self proclaimed "promoter".
(http://www.divorcelawyerMD.com)"There are a lot of worthy charities out there and terrific events happen every weekend in this town to celebrate them", Bulitt continued. "We wanted to do more than that. We wanted to give our clients and our friends a night they would not soon forget." And after four hours of pounding rock and roll classics, they succeeded.
Led by Asbury Jukes keyboardist and Bon Jovi sideman, Jeff Kazee (http://www.kazeemusic.com), the evening's "All Star Band" bounded onto the stage at 8:30 and immediately blew the doors open with a pounding rendition of Springsteen's "Tenth Avenue Freeze Out". The classics continued throughout the night - John Cougar Mellencamp, Billy Joel, Sly and the Family Stone, and Rolling Stones hits among them. Led by Kazee, the band peppered the room with solos on several tunes. Long time Billy Joel sax man, Mark Rivera, shared center stage throughout the night and wailed away on some old Billy Joel classics. Andy York, seen most recently at John Cougar Mellencamp's Rock and Roll Hall of Fame induction, fed the fan frenzy with several guitar solos. Two pieces of the great Asbury Juke horns section, Chris Anderson on trumpet and Neil Pawley on trombone, also gave spectacular solo performances. The rest of the band included Anton Fig, of the David Letterman Show, on drums; John Conte on bass and Jeffrey Lee Campbell on guitar. As the midnight hour passed, Kazee and his keys and tied the whole night up with a rousing version of Elton John's "Take Me to the Pilot".
Housing Initiative Partnership, Inc.was the beneficiary of JGL's fundraising efforts. HIP has a variety of services aimed exclusively on the lower-income citizens of Prince George's County. Originally conceived to rehabilitate local derelict housing and to sell the renovated homes to lower income families, HIP has expanded its services over the years to include homeownership counseling in English and Spanish, a mentoring program for local youth, and a reading encouragement program which provides free books to low and moderate income children. "Since we began, we have provided homes to several Prince George's County families, helped to send young men and women to college, and distributed hundreds of books to kids who never owned a book before," said HIP founder, Mosi Harrington.
Many local businesses, led by VOCUS (http://www.vocus.com) and M&T Bank served as corporate sponsors for the event. Others included: The Mark Vogel Companies, Sandy Spring Bank, LAD Reporting, Beltway Plaza Mall, Legends Group Builders, Dataprise and KAWG&F. Jerry Frishman Photography (http://www.jfphoto.com)recorded the night in pictures. Corporate sponsors and their guests were treated to exclusive "BACK STAGE PASSES" that provided them with access to the Gala's superstar band sound check session during the afternoon, a red carpet walk to the band's green room and a busy after party attended by all the band members. "It was a lot of work, but truly a labor of love...I hope we don't have to wait another 40 years to do it again", said Bulitt.
For further information, please contact David Bulitt at (240) 553 1193 (dbulitt(at)jgllaw.com) or check the Joseph, Greenwald & Laake website at http://www.jgllaw.com.
# # #