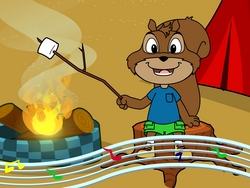 Research is telling us we've isolated ourselves and our children from the very elements which help us thrive
Marin, CA (PRWEB) March 20, 2008
IAGmedia, Inc introduces today 'Into the Great Outdoors', the first DVD activity set in its Let's Go Chipper!™ series. 'Into the Great Outdoors' is a 35-minute animated and live action adventure, featuring Chipper, a suburban-squirrel, and focuses on exciting and educating young children about the wonders of nature.
'Into the Great Outdoors' is as story full of music, mishap, and valuable lessons that touch on the very anxieties that keep parents from exploring the national and state parks, as well as local parks with their children. "Our goal is to excite and empower a young child with the knowledge of the great outdoors through easy-to-remember lessons," says creator Stephanie Rach-Wilson.
A 52-page book featuring story, activity pages, and songs, as well as a sing-a-long CD, accompanies the DVD. The entire production and manufacturing took place in the US and the book is printed with soy-based ink by a Bay Area "Green Business" and has less than a 1/8th inch paper waste. The DVD, Story & Activity book, and CD retails for $29.95.
Ms. Rach-Wilson began writing and building the series after sensing that today's parents had lost their "get out and play" spirit. "Research is telling us we've isolated ourselves and our children from the very elements which help us thrive," she states. "Kids take care of what they love so let them smell, touch, listen, and see their environment--backyard or park."
IAGmedia is based in Marin, Calif. and supports its launch with a "Less Packaging, More Fun" initiative, encouraging children's product manufactures to use a "shrink-to-fit" mindset when designing product packaging.
Into the Great Outdoors is currently available at http://www.intothegreatoutdoors.com, http://www.parentcenter.com (beginning May), and specialty retailers. To learn more or request a copy, please call 415-271-9603 or email info @ iagmedia.net.
###