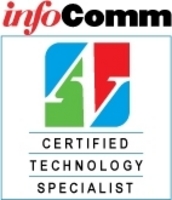 InfoComm is the only organization within the audiovisual industry to earn ANSI accreditation for its personnel certification program and we are pleased that InfoComm is continuing to set the industry standard for competency and quality in the AV industry
Fairfax, VA (PRWEB) March 20, 2008 -–
InfoComm International, the leading trade association representing the professional audiovisual industry today announced that the International Organization for Standardization's (ISO) United States representative, the American National Standards Institute (ANSI), has accredited InfoComm's Certified Technology Specialist and Certified Technology Specialist –- Installation credentials under ISO/IEC 17024.
ISO/IEC 17024 establishes a global benchmark for the certification of personnel. ANSI accredits standards developers, certification bodies and technical advisory groups to both the ISO and the International Electrotechnical Commission (IEC).
This accreditation meets the requirements by the U.S. DoD (Department of Defense) Directive 8570.1, which requires its information assurance workers to obtain a commercial certification that has been accredited by ANSI or equivalent authorized body under the global ISO/IEC 17024 standard. This DoD-wide policy was approved for implementation in December 2005.
"InfoComm is the only organization within the audiovisual industry to earn ANSI accreditation for its personnel certification program and we are pleased that InfoComm is continuing to set the industry standard for competency and quality in the AV industry," said Randal A. Lemke, Ph.D., Executive Director, InfoComm International. "This accomplishment is a tribute to the visionary thinking of InfoComm's Board of Governors, who several years ago recognized the value of seeking outside validation of InfoComm's certification program, and to the tenacity of the members of InfoComm's independent Certification Committee, who helped institute important programmatic changes that were necessary to navigate ANSI's rigorous accreditation process."
"Today is a victory for the more than 9,500 audiovisual professionals who have earned the CTS credential, and for the companies with the foresight to invest in InfoComm's certification program," said Mark Valenti, CTS, InfoComm International President, and President of The Sextant Group. "Architects, AV design consultants, the government and others who specify AV work can have full confidence in the validity of the CTS credential."
Spencer Bullins, CTS, of AMX Corporation said, "InfoComm is meeting the changing demands of industry and government through the accreditation of the CTS credential. The investment in resources and volunteer time has been very significant, but having ANSI validate the value of our program is the ultimate compliment and recognition." Bullins serves as Chair of InfoComm's independent Certification Committee and is a past president of InfoComm International.
"InfoComm is commended for completing this rigorous process and receiving ANSI accreditation," said Dr. Roy Swift, program director for certification accreditation for ANSI. "ANSI/ISO/IEC 17024 was developed in response to businesses and governments seeking a valid benchmark for agencies who certify people."
Employers in the public and private sectors can be confident that AV professionals holding the CTS and the CTS-I credentials possess the necessary skills to implement audiovisual best practices, processes and procedures anywhere in the world.
Certified Technology Specialists (CTS) serve clients by creating, operating and servicing AV solutions, while meeting client's needs, on time and within budget. A Certified Technology Specialist - Installation (CTS-I) installs and maintains audiovisual systems by following specifications, schematics, codes, and safety protocols; administering installation process logistics; troubleshooting and problem solving systems; maintaining tools and equipment; and communicating with clients, designers, other trades, other installers and staff, all while providing exemplary customer service. Ongoing professional education is required to maintain the credentials. A certification is valid for three years and certified individuals must earn 30 renewal units (RUs) within each three-year period, remain in good standing, and abide by the CTS Code of Ethics and Conduct.
InfoComm also offers an advanced certification in Design. That program is currently being revised and InfoComm and the InfoComm Independent Certification Committee are in the process of applying to the American National Standards Institute (ANSI) for accreditation of this certification.
About InfoComm International®
InfoComm International is the international trade association of the professional audiovisual and information communications industries. Established in 1939, InfoComm has 4,500 members, including manufacturers, systems integrators, dealers and distributors, independent consultants, programmers, rental and staging companies, end-users and multimedia professionals from more than 70 countries. InfoComm International is the leading resource for AV market research and news. Its training and education programs, along with its separately administered Certified Technology Specialist (CTS®) and corporately administered Certified Audiovisual Solutions Provider (CAVSP) company credentials, set a standard of excellence for AV professionals. InfoComm International is the founder of InfoComm, the largest annual conference and exhibition for AV buyers and sellers worldwide. InfoComm also produces trade shows in Europe, Asia, and China. Additional information is available at http://www.infocomm.org.
###