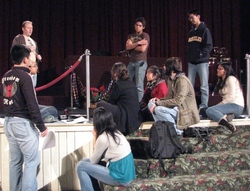 Riverside, CA (PRWEB) March 21, 2008
Azindies Productions, LLC is pleased to announce Ramen Revolution, a ground-breaking television series about anime and Asian pop culture, which will be taped live at the Granada Theater in Ontario, CA, on Saturday April 5th, at 6:00PM for broadcast on LA 18KSCI-TV on April 27 at 12:30a.m.
Ramen Revolution is the biggest, most unique anime event ever to hit the Inland Empire. It will include live Para Para dancers and feature performances from the Japanese-American bands Friday Knights and Thee Out Mods. There will be audience participation games and contests, free giveaways, and drawings for a free iPod nano and an iPod shuffle. Ramen Revolution will also provide news updates, event coverage, information on Japan's latest music and fashion trends, interviews, sketch comedy, and everything else a Japanime fan needs.
The show will be anchored by writer/comedian Jon Kalkin and hosted by Sir Jestro and Jennifer Partridge of the TV Series "Our New Earth." Special Guests will include Mark Anthony Williams from the movie Phat Girls and featured on Showtime's hit series Dexter, and Richard George, executive editor at http://www.ign.com in charge of comics and anime channel.
The first live show is on April 5th, 2008. Tickets to the show can be brought for only 15 dollars per person online at http://www.ramenrevolution.com or at a participating high school or college Anime club. Ramen Revolution can be also watched online at http://www.ramenrevolution.com.
Ramen Revolution was created in response to the large demographic of Anime fans and interrelated sub-cultures who have been ignored by mainstream Hollywood for so long. Therefore, Ramen Revolution is proud to be made by otaku for otaku.
But if you're new to the world of Asian pop culture, don't worry. Ramen Revolution was created to entertain everyone!
###