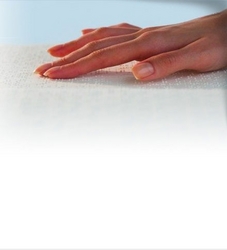 We feel very blessed with the success God has given us.
Seffner, FL (PRWEB) March 26, 2008
Braille Works, a company that provides Braille services and Large format print for over 7,000 clients in various industries nationwide, is expanding operations. The company has moved to larger offices and has launched a new website to meet with the growing demand of a stronger online presence.
Originally headquartered in Dover, Florida, Braille Works recently outgrew their old space as they provided Braille translation and Large Print and Braille printing to major clients such as Applebee's and Outback Steakhouse restaurants, as well as Freedom Scientific and various other clients in the health care, financial, human resource, and transportation industries. Their new offices and production facility are located in Seffner, Florida.
Braille Works - Making the World a More Readable Place
The company was founded in 1994 by Joyce and Lou Fioritto. The firm provides customized Large Print and Braille Services, helping businesses and public agencies reach all customers and comply with a variety of regulatory guidelines, including HIPAA and ADA rules.
Braille Works' founders credit the company's phenomenal growth to their clients' desire to serve customers who are blind or visually impaired better. Says Liz Holmes, Print Production Manager for Applebee's Services, Inc., "I have worked with Joyce and Lou Fioritto since 1994. They have grown as have we, and through the years, have proven to be the best in supplying Braille and large print menus to our customers. I have never had a complaint on these menus, only glowing thanks. You can't go wrong with Braille Works!"
A New Cyber Home
To keep up with the shift in media trends that emphasize the importance of a highly functional online presence, Braille Works revamped its website with the assistance of Bayshore Solutions, an award-winning interactive marketing firm offering website design, development, eMarketing, SEO and hosting solutions to clients nationwide.
Bayshore Solutions integrates technology and internet marketing services and the Braille Works founders are excited about the improvement in their company's physical space as well as their website. Utilizing SEO and SEM strategies, the company plans to see a significant increase in their online presence:
The founders are very excited about what God has done and is going to do with Braille Works. "We feel very blessed with the success God has given us." say Lou and Joyce Fioritto.
Braille Works is dedicated to the principle that all people who are blind and visually impaired should receive the Large Print and Braille services they need. With their new location and internet strategy, the company is poised to deliver on that promise.
About Braille Works
Braille Works is the leader in creating and distributing reading materials for people that are htp://legally blind or have a visual impairment. With over 7,000 clients that include restaurants, financial institutions, utility companies, and many other industries, Braille Works is truly dedicated to Braille literacy and Making The World A More Readable Place. Client projects are given careful consideration to make every page easy to read and handle, giving readers the respect and independence they so rightly deserve. Top-notch Braille technology helps companies stay ADA Compliant by meeting the qualifications of Section 508 and 504 of the Rehabilitation Act and HIPPA privacy codes. You can visit Braille Works at http://www.BrailleWorks.com.
###