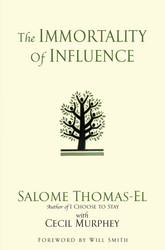 Thomas-EL was called to serve, and has inspired others to pick up the torch of service.
Philadelphia, PA (PRWEB) March 25, 2008
In a tribute to Stanley Kramer, a pioneer in filmmaking who garnered a record 85 Academy Award nominations, Sony Pictures has released the 40th anniversary DVD edition of Guess Who's Coming to Dinner. This controversial film starred Hall of Fame actors Sidney Poitier, Kathryn Hepburn and Spencer Tracey.
Philadelphia Principal, Salome Thomas-EL, author of the best sellers, I Choose to Stay (Kensington - March 2003) and The Immortality of Influence (Kensington - May 2006), foreword by "I Am Legend" star Will Smith, was among a host of A-list celebrities asked to provide commentary on this extraordinary film project. Principal Thomas-EL was joined by Steven Spielberg, Harrison Ford, Quincy Jones, Alec Baldwin, Lou Gossett, Jr., and many more, giving his viewpoint on the progress of race relations in our country over the last 40 years. Much of the commentary on the DVD has most recently been underscored by Senator Barack Obama's compelling address to the nation on eliminating the "racial stalemate" in our country.
Salome Thomas-EL has been a teacher and principal in Philadelphia for more than two decades. A humble yet dedicated educator, he revived the chess team of an inner-city middle school and led them to a National championship. http://www.ichoosetostay.com. Right from the beginning, he worked from a single principle: his students would never know they couldn't be as successful as their suburban counterparts. He would inspire them to believe they could win. At the time, he had no idea how well that simple philosophy would pay off. When the achievements of the students began to breed in them arrogance and an insensitivity towards others, Thomas-EL took the group to Vermont for one week to learn how people of different races were instrumental in helping to free blacks hundreds of years ago.
Recognized as an authority in the area of children achieving, Principal EL has garnered the attention of Pennsylvania Governor, Ed Rendell, and California Governor, Arnold Schwarzenegger who stated, "Salome Thomas-EL has touched many people and will affect many more in the generations to come." Award-winning actor Will Smith has also expressed, "Thomas-EL was called to serve, and has inspired others to pick up the torch of service."
Salome Thomas-EL, CEO and Principal of Russell Byers Public Charter School, is one of the most sought after public speakers in the nation, and was Philadelphia Magazine's "Best Philadelphian". His book, I Choose to Stay, was optioned by Disney films and he recently signed a development deal to star in a television show for parents and teachers who struggle with educating and raising teenagers.
Please read more about Salome Thomas-EL and his students at http://www.ichoosetostay.com
###