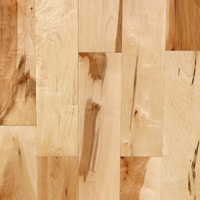 The Colorado Collection is a high grade character floor that compares to the very expensive designer look but for a much more reasonable price
Montrose, CO (PRWEB) March 24, 2008
Western Hardwood, located in Montrose, announces the release of the Colorado Collection of solid hardwood flooring. The series features several wood species, including hickory, cherry, and oak hardwood flooring, and has been researched by professionals in the business in order to create a high quality designer look at a fraction of the cost. Customers may also inquire about free delivery within a 350 mile radius for those who purchase materials from the new collection.
The Colorado Collection intends to recreate the authentic hickory, cherry, and oak hardwood flooring of the Colorado tradition. The founders, Steve and Dale Zahniser, have roots and background in the western look and feel of the Colorado heritage, and what they have done with this solid hardwood flooring collection brings to mind the appearance and ambience of a rich mountain lodge.
Western Hardwood's Director of Sales, Steve Zahniser, is proud of the work done to create the new collection. "The Colorado Collection is a high grade character floor that compares to the very expensive designer look but for a much more reasonable price," Zahniser said. "It has that character look with lots of natural wood color, and in some species of wood a reclaimed look that many manufacturers charge 15 to 25 dollars per square foot. We offer that same look for a fraction of the cost."
The proprietors of Western Hardwood pride themselves on the organic look and rustic feel of the new Colorado Collection, and feel that they offer a product that larger manufacturers and designers cannot.
Zahniser continued: "Some solid hardwood flooring with this look has too many short lengths and more knots and does not look natural. The Colorado Collection is a more natural looking product. When you install it as your flooring, it has the right amount of knots, combined with a good board length. When installed, it will be a natural looking floor with a balanced amount of clear boards, knots, and color throughout the floor."
For more information about the Colorado Collection's selections of hickory, cherry, and oak hardwood flooring, visit Westhardwood.com.
About Western Hardwood:
Western Hardwood is located in Montrose, Colorado, and offers a complete line of solid and engineered wood flooring products. Their new Colorado Collection reflects the look and feel of rustic, richly furnished mountain lodges and cabins, and focuses on character, with natural wood color and a reclaimed look. Western Hardwood sells to installers, DIY homeowners, interior design professionals, and retailers.
# # #