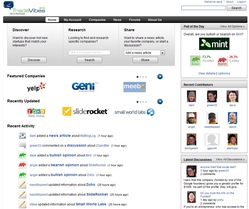 We are very excited about our public Beta launch, and closing our Seed Round from such an amazing group of investors and advisors
Mountain View, CA (PRWEB) March 24, 2008
Mill River Labs announced the launch of TradeVibes TradeVibes beta release, a free wiki-style service for finding, researching, and discussing information about startup companies. Mill River Labs also officially announced their Seed Round of investment totaling $900K from prominent angel investors Ron Conway, Aydin Senkut (Felicis Ventures), Dave McClure, and the Kinsey Hills Group.
"We are very excited about our public Beta launch, and closing our Seed Round from such an amazing group of investors and advisors," said David Li, the CEO and Co-Founder of Mill River Labs. "Our mission is to democratize company information. We plan on using the funding to grow our team, to be able to quickly iterate on our Beta site now that it is available to the public."
Traditional providers like VentureSource (a service of Dow Jones) and Hoovers (a service of Dun & Bradstreet) charge subscription fees of up to thousands of dollars for accessing their company profile information. By aggregating much of the free information now available on the Internet and leveraging the power of their community who contribute to the addition and update of the information, TradeVibes is able to offer this service for free to the general public.
TradeVibes has been an innovator in the company information space: when the Alpha version of the site launched in 2007, it was the first structured wiki style website focused on company information. Unlike its competitors that offer plain, factual profiles of the companies, TradeVibes aggregates facts, news, as well as opinions about companies in its directory. The TradeVibes platform offers several innovations vs. its competitors:

The TradeVibes news aggregation service combines an automated news grabbing engine with a user-submitted news platform for the ultimate source of startup company news.
The Startup Discovery Widget combines the interests of the user with our proprietary recommendation algorithm to enable our users to quickly discover hot and interesting startups.
The Competitor module allows users to quickly find and research a company's competitors and compare the website traffic across competing sites.
TradeVibes' Bulls vs. Bears opinion platform leverages the wisdom of the crowds to gather bullish and bearish outlook about companies on TradeVibes.
TradeVibes also offers a customizable company information widget that can be used by any website owner who wants to syndicate the wealth of TradeVibes company information, free of charge.
About Mill River Labs:
Mill River Labs is the company behind TradeVibes. Mill River Labs was founded by four early employees of PayPal, a popular online payment service acquired by eBay. Founded in early 2007, the company raised its seed round of funding from prominent angel investors including Ron Conway, Aydin Senkut (Felicis Ventures), and the Kinsey Hills Group. Mill River Labs also has a world class set of advisors -- Ron Conway (founder of Angel Investors LP), Steve Chen (co-founder of YouTube), Ed Kinsey (co-founder of Ariba), and Dave McClure (prominent blogger and investor). More information about the company can be found at TradeVibes.
Media Contact:
650-967-2735
###