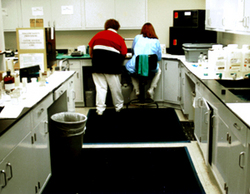 We used everything, chromic acid, sulfuric acid, nitric acid, multiple stains
Cleveland, OH (PRWEB) March 24, 2008
Martinson-Nicholls, a pioneer in creating new anti-slip floor mats, created ViSpa floor matting to prevent slips and falls in medical, chemical and industrial laboratories. For years, histology labs have contended with the dangers of paraffin wax dropping on the floor, creating extremely dangerous footing situations.
A Cleveland hospital laboratory, one of many who experience the problem, was the first to pursue a solution. According to their lab manager of anatomic pathology, "We had a surgeon who broke his wrist when he slipped in the hall on paraffin that had been tracked there from the lab. We contacted Martinson-Nicholls for matting to eliminate the slippery floors."
A distributor of 3M Safety Walk and Nomad Matting, Martinson-Nicholls was already providing the hospital labs with floor matting, but the lab needed matting that would eliminate slippery floors in and around the paraffin processing rooms. The lab was willing to help test any new products that might help solve this problem.
Dan Ruminski, president of Martinson-Nicholls, came up with a solution--larger versions of ViSpa floor mats that were being used for other applications in medical, chemical and industrial laboratories. Made of vinyl, the non-woven, continuous filament-bonded ViSpa matting withstands the constant abuse of foot traffic, paraffin spillage, and even corrosive, including sulfuric acid.
The continuous filament-bonded matting traps paraffin-embedded cuttings, while a special surfactant prevents the wax from sticking to the surface. For cleaning, the matting can be shaken, vacuumed, or rinsed with water.
"We used everything, chromic acid, sulfuric acid, nitric acid, multiple stains," the lab manager said of the testing. "ViSpa floor matting stood up against it all."
The anti slip carpet mats are offered in sizes of 3' x 5' or 4' x 6' in four colors.
About Martinson-Nicholls
Martinson-Nicholls, has established itself as a leader in custom floor matting, heated floor mats, and safety solutions over the last 25 years.
Martinson-Nicholls provides the customer with the exact size needed-small, large, standard, nonstandard, special shapes and logos. Custom installations are also a specialty of the company.
Anti-slip safety tapes and treads are available in various sizes and textures from hand cut or die cut pieces to full rolls and special shapes.
Martinson-Nicholls concentrates on floor safety, noise reduction, and anti-fatigue and indoor and outdoor heated floor mat applications. They welcome the special applications that our customers present, as this has enabled them to satisfy come very unique and unusual problems for customers. For more information, please visit http://www.floormat.com.
###