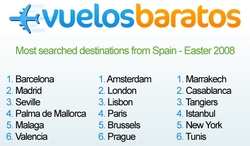 Madrid, Spain (PRWEB) March 23, 2008
A study carried out by Vuelos Baratos, the most visited independent flight comparison site in Spain in 2007, revealed that the overwhelming majority of Spanish Internet users prefer to spend their Easter holidays in their own country. The analysis of thousands of flight queries conducted on the Vuelos Baratos portal shows that of the top 20 most popular destinations for this Easter, 15 are in Spain. Barcelona, Madrid, Seville, Palma, Malaga and Valencia are the most popular Spanish destinations. In fact, Barcelona and Madrid on their own made up almost 20 percent of all the searches conducted by Spanish visitors to the site looking to make reservations for the Easter holidays.
Outside of Spain, Amsterdam, London, Paris, Lisbon and Brussels proved to be the most popular European destinations for Spanish Internet users. For the slightly more adventurous, wishing to travel outside of Spain and Europe, Morocco proved to be the single most popular destination. Combined flight searches to Marrakech, Casablanca and Tangiers made up almost a quarter (24 percent) of all the searches carried out to locations beyond Europe and Spain. The most popular long-haul flight searches for Easter were for New York and Cuba.
The most popular dates among Spanish internet users for travelling this Easter are between the 20th and 23rd of March. Slightly more than 20 percent of the people who carried out flight searches on the Vuelos Baratos portal chose to leave and return on these dates. Only 7 percent of those looking for flights on Vuelos Baratos appear to be fortunate enough to have the full nine days holiday that the majority of users can only dream about and searched for flights between the 15th and 23rd of March. Naturally, it is this last group that look to travel the farthest -- 53 percent of them searched for routes outside of Spain and more than 20 percent searched for destinations outside of Europe. Among the other group, who have only four days holiday, more than 60 percent decided to take full advantage of their holidays by keeping travel time to a minimum and chose to fly to Spanish destinations. Only 4 percent of them searched for flights outside of Europe.
Depending on their point of departure, the Spanish demonstrate very different travel preferences when it comes to choosing a location to spend their Easter holidays. People from Madrid seem to want to welcome Spring by escaping their land-locked city and making for coastal areas; Barcelona, Palma, Malaga, the Canary Islands and Ibiza are the most searched destinations among queries originating from Madrid. On the other hand people from Barcelona, who can enjoy the benefits of living by the sea all year round, demonstrate a tendency to choose locations away from the coast -- Madrid, Seville, Granada and Amsterdam are among their destinations of choice. People from Seville also appear to want to take advantage of the benefits of the sea at Easter and focus their searches on Barcelona, Valencia, Palma, Las Palmas and Corunna. People from Valencia, whose annual "Fallas" (Firework) festival will attract thousands of extra visitors as it falls at Easter this year for the first time since the 1800s, are heading for Amsterdam, Paris and London. The Basques, Galicians and people from Asturias appear keen to sample the delights of Spain and the majority of their travel searches were for Valencia, Madrid and Barcelona.
About VuelosBaratos
VuelosBaratos is a leading flight comparison engine operating in the Spanish Market since 2004.
According to recent figures from Nielsen Ratings VuelosBaratos was the most visited independent flight comparison engine in Spain in the year 2007.
VuelosBaratos is currently available in Spanish, English, Catalan, Basque, Portuguese and Italian
# # #