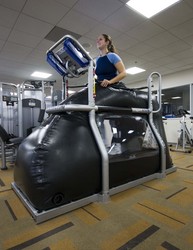 With our recent FDA clearance to market the G-Trainer for rehabilitation of a broad spectrum of medical conditions, we listened to our medical customers and modified our G-Trainer to better match their requirements
Menlo Park, CA (Vocus) March 24, 2008 -
– Alter-G, Inc., developers of the G-Trainer anti-gravity treadmill, today announced the availability of a new, lower-price G-Trainer model to be sold along with the existing G-Trainer Pro model, to enable a wider spectrum of medical and athletic facilities to acquire the technology. The company also introduced a low priced, full service and support rental program to facilitate short-term trial and long-term use with monthly rental fees as low as $1,350.
"With our recent FDA clearance to market the G-Trainer for rehabilitation of a broad spectrum of medical conditions, we listened to our medical customers and modified our G-Trainer to better match their requirements," said Lars Barfod, CEO. "The result is a product that meets the needs of patients, but at a significantly reduced price and a second product equipped for athletic performance. In addition we are excited to add a solid rental program which will make the G-Trainer technology affordable for many more customers."
The G-Trainer anti-gravity treadmill, available to rent monthly for as low as $1,350* and priced at $55,000*, offers the unique benefits of precision body weight adjustment in real time, unrestricted mobility, natural body movement, full range of motion, extended variable options, and in-use setting adjustments. It is designed for rehabilitation and medical facilities that commonly treat individuals weakened or impaired by illness, suffering from mobility issues that limit physical activity or recovering from injury or surgery. Maximum speed is 10 mph.
The G-Trainer Pro anti-gravity treadmill, available to rent monthly for as low as $1,800* and priced at $75,000*, offers the same unique real-time body weight adjustment benefits of the G-Trainer along with an extended range of performance variables and sizes. The G-Trainer Pro accommodates the needs of sports medicine and performance enhancement facilities that treat patients who will need the significantly higher speed of the G-Trainer Pro. Maximum speed is 18mph. The G-Trainer Pro also accommodates taller individuals up to an approximate height of 7'4".
*Two year rental commitment required for G-Trainer or G-Trainer Pro at prices shown. 6, 12 and 24 month plans are available. Shipping and installation is additional. All prices are subject to change. Leasing programs are available when purchasing. Please inquire for full rental and leasing conditions and plan options through info @ alter-g.com.
To learn more about the G-Trainer and G-Trainer Pro, visit us on the web at http://www.alter-g.com.
About Alter-G
Alter-G, Inc., a Silicon Valley company founded in 2005, is setting standards for results-oriented, body weight support equipment, enabling individuals to improve mobility and health, recover from injury and surgery more effectively, overcome medical challenges that limit movement, and enhance physical performance. The company's patented gravity differential technology was developed at NASA and prototype-tested by Nike's Oregon Project for distance runners. Health and medical clinics, rehabilitation and training facilities, professional athletes, and top collegiate programs across the US are experiencing the unique benefits of walking and running at reduced body weight. Find out more at http://www.alter-g.com.
Contact:
Christine Fife
Alter-G, Inc.
650 289-9444, x. 210
Christine @ alter-g.com
###