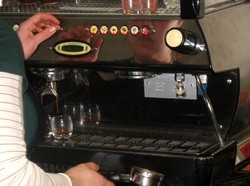 We are in it to win it!
San Jose, CA (PRWEB) March 24, 2008
Pledging no sleep till Berkeley, Silicon Valley's Barefoot Coffee Baristas are aiming to take the crown of Best Barista in the West at the upcoming Western Regional Barista Competition in Berkeley, CA. Barisas Monica Hill and Marie Holston are on the Barefoot Coffee 2008 competition team and have pledged "No sleep till Berkeley!" in order to train full time for the competition that pits them against some of the strongest Baristas in the country. The Western Regional Barista Competition WRBC website is being held March 28-31, 2008 at the Gaia Arts Center.
United States two time National Barista Champion and 2007 World Barista Champion second place winner Heather Perry is expected to make another strong run at this years western regional competition. She is looking to defend her unbeaten streak of winning every Western Regional for the last five years. The Western region comprises all of California and Hawaii and is the largest group of competitors in the country. Organizers expect over 40 Baristas to compete this year.
"We are in it to win it!" Monica R. Hill, Barista Kingpin at Barefoot Coffee Roasters said. "We have been cupping scores of coffees every day for months, making and drinking thousands of shots of espresso and rehearsing our presentation hundreds of times. We couldn't sleep even if we wanted to with all the coffee we have been drinking!"
Team Barefoot is rounded out with two new Barista competitors from Temple Fine Coffee in Sacramento Temple Fine Coffee and Caffe Mediteraneum in Berkeley Caffe Mediteraneum. And the owners of each cafe Sean Komescher from Temple and Craig Becker from Caffe Mediteraneum will be certified judges at the competition.
Barefoot Coffee has brought out some serious firepower to equip their team to win this year. Barefoot has flown in Noe Cacao Castro the Guatemala National Barista Champion, to train Monica and Marie full time for more than six weeks to prepare for the intense competition. Noe has competed at the World Barista Championship level and brings an international experience to the team. Monica and Marie also competed a few weeks ago in the Southwest Regional Barista Competition as out of region competitors just to get additional practice. And Barefoot even hosted a full day competition training with National Champ Heather Perry to further improve their Barista's training.
"We pledged no sleep till Berkely in order to focus on training 12 to 16 hours a day for the last three weeks," said Marie Holston Barista competitor from Barefoot Coffee. "We even got team competition jackets made to motivate us to kick butt!"
About the Western Regional Barista Competition:
The 4th Annual Western Regional Barista Competition comes to the Gaia Arts Center Gaia Arts Center, Berkeley, CA, and raises the bar yet higher in the pursuit of espresso excellence and specialty coffee appreciation.
The Specialty Coffee Association of America SCAA site presents the 2008 WRBC, showcasing the talents of the best baristas from across California and Hawaii. The winner will compete in the semifinal round at the 2008 U.S. Barista Championship USBC infomation in Minneapolis, MN; the winner of the U.S. competition will compete in the 2008 World Barista Championship World Barista Championship in Copenhagen, Denmark.
The Western Regional Barista Competition strives to foster the production of quality coffee, encourage creativity and innovation, and create an regional, national, and international community of specialty coffee professionals.
Each contestant prepares and serves three espresso beverages for each of four sensory judges...one espresso, one cappuccino, and one "signature" drink of their own creation. Competitors have only 15 minutes to prepare all twelve drinks while being observed by four sensory skills and two technical judges in front of a live audience. Competitors are judged based on drink taste, presentation, technical skills and cleanliness.
Barefoot Coffee Roasters, Inc. is a cafe and roastery in the heart of Silicon Valley operating in the old ways of hands-on craftsmanship. Hands and hearts beat computer chips any day. Striving for coffee perfection makes Barefoot take coffee pretty seriously and pour love into every bean. While still keeping it simple; taking great coffee, crafting it with pride and passion and treating the whole coffee experience as a culinary art while operating sustainably from top to bottom. The team has been ranked as one of the top four boutique roasters in the nation by Food and Wine Magazine and been voted Best Coffee in the Bay Area four years running by the Wave and Metro magazines and recently the Mercury News. Barefoot is an artisan roaster of sustainable coffees including Organic, Fair Trade, Shade Grown, co-op grown, single estates, auction winning lots and relationship coffees. These great coffees have amazingly complex flavors, nuances and layers which are truly wonderful on your tongue. Barefoot Coffee Roasters is proud to be a participating member of the Specialty Coffee Association of America, the Roasters Guild and a founding member of the Barista Guild of America and the Nor Cal Coffee Maffia. Located at 5237 Stevens Creek Blvd. in Santa Clara, CA (at the corner of Lawrence Expressway). For more information, please call (408) 293-7200, visit Barefoot Coffee or simply drop by.
###