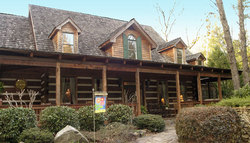 Rezovation launched our new website in May, 2006, and our bookings and revenues have consistently been running about 60 percent ahead ever since
Ellijay, GA (PRWEB) March 25, 2008
Ellijay Georgia, the apple capital of Georgia, has long been a frequent destination for Atlanta and Chattanooga residents. The historic town is known for antiquing, its atmospheric old-fashioned light posts, and scores of appealing shops and restaurants. Surrounding the town is a beautiful all-season playground of mountains and rivers with everything from hiking and picnicking, to fishing, boating, hunting, camping, and cycling. The town boasts numerous places to stay, including the Hearthstone Lodge, a locally owned and operated boutique B&B that has seen its guest list grow dramatically in the past year.
Owned by innkeepers Phil and Pat Cunniffe, the Hearthstone Lodge features luxury accommodations, privacy, and seclusion. Built in 1997, this inn's rustic atmosphere is enhanced by fine artwork, impeccable décor, antiques, and all the modern amenities. The gourmet, multi-course breakfast served each morning treats guests to a great start that lasts all day.. Beyond the tranquil wooded grounds are walking trails with creeks and waterfalls. Yet, despite all these charms, explained Phil and Pat, only a year ago, "no one seemed to know we were here."
Pat was featured on two H&G syndicated TV shows, "Open House" with Lynn Weaver and "Flavors of the South" with Rhonda Thomas. Georgia Trends magazine wrote that "the Hearthstone Lodge is nestled between Fort Mountain and Carters Lake with over one hundred acres of forest and solitude. Rustic with modern touches, it's the sort of place Ernest Hemmingway would enjoy." Georgia Where magazine featured the lodge as one of the top ten inns in the state of Georgia: "One of Georgia's great small inns, big on charm. Quiet and peaceful." Yet business was still much slower than the couple expected.
The situation changed when Pat and Phil partnered with RezOvation, an Austin, Texas-based company that builds websites for inns and B&Bs around the world. "We knew our lodge was top-notch; what we didn't realize was that we were not getting the message across where we needed to most -- online." RezOvation redesigned the property's website enabling them to get much better placement in search engines like Google, and also made it possible for guests to make reservations instantly online -- just as if they were on major travel website.
"Rezovation launched our new website in May, 2006, and our bookings and revenues have consistently been running about 60 percent ahead ever since," explained Phil. "Our guests tell us how much they enjoy viewing our site and how easy it is to make a reservation. Online reservations have increased by about 30 percent."
Now the secret is out, and there is just one more reason to come to Ellijay. Travelers know they have a boutique property to enjoy in addition to the surroundings. Of course the website is only part of it; Pat and Phil make guests feel at home the moment they arrive and Pat's artistic abilities extend from the kitchen to the entire home. Pat and Phil also know that they are getting many new guests as well. "Now that we have seen the results with RezOvation, we only wish we had done it sooner. It is far less expensive than competitive offerings, and the RezOvation staff has been great in every way."
According to John Banczak, Chief Operating Officer of RezOvation, "the Hearthstone's results are similar to other properties using websites designed by RezOvation. Consumers want easy-to-navigate websites, with great photos, and real-time online reservations. RezOvation sets this up for properties and once they have it running, they never look back." The innkeepers of the Hearthstone Lodge have looked back on the past year and smiled. With a 60 percent increase in revenue, in beautiful Ellijay, it would be hard not to.
RezOvation is one of the few Microsoft Certified Property Management System companies in the world, and is part of the BedandBreakfast.com family of companies that also includes Inns.com. RezOvation provides award-winning software to manage inns, B&Bs, and hotels, as well as website design, hosting and promotion. Over 5,000 properties use RezOvation software around the world.
BedandBreakfast.com is the leading online bed and breakfast directory and reservation network, listing nearly 7,000 B&Bs worldwide. Travelers can make reservations online, write and read reviews, and purchase BedandBreakfast.com gift cards welcomed at nearly 4,000 bed & breakfast inns in the U.S. and Canada.
High resolution photos available upon request.
###