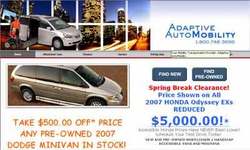 Adaptive AutoMobility offers caring and compassionate people that work hard to make life easier for our customers
Denver, CO (PRWEB) March 25, 2008
Denver, Colorado mobility dealer Adaptive AutoMobility announces two new product lines for accessible vans. Available now from the company are the Honda Odyssey minivan with the VMI Northstar conversion and Bruno Turning Automotive Seating for the Toyota Sienna minivan.
The 2008 Honda Odyssey has been named 2008 "Top Safety Pick" and "Best Van" for the seventh year in a row, but few know it is available in a wheelchair accessible model. The VMI Northstar lowered floor conversion offers more interior maneuvering space than and other premium minivan on the market today and represents the culmination of the company's forward-thinking philosophy. Lower ramp angles make access easier, and a one-touch remote allows for effortless ramp deployment.
The Lift-Up Seat, designed by Bruno specifically for the Toyota Sienna minivan, provides easy access by rotating as it comes out of the vehicle and lowers to the ground, eliminating the climbing and twisting normally required to enter and exit the vehicle. The Lift-Up Seat for the Toyota Sienna is available in front-right and mid-right vehicle positions, and features a comfortable factory seat.
Adaptive AutoMobility is proud to carry both of these new and innovative product lines.
"Adaptive AutoMobility offers caring and compassionate people that work hard to make life easier for our customers," said General Manager Kevin Durban, a veteran of customer service management for companies as varied as American Airlines, General Motors, and Disney Europe. "We are experts in accessible transportation and feature the best products to keep our customers mobile."
Adaptive AutoMobility's website, visible online at AdaptiveAuto.com, displays the wide selection of new and pre-owned wheelchair accessible vans, scooter and wheelchair lifts, and other product lines in an easily navigable browser, with multiple photographs and extensive product information. Adaptive AutoMobility is committed to making the online browsing and shopping process both convenient and enjoyable.
Durban added: "At Adaptive AutoMobility, we put our customer's needs and requirements first, making sure that they have the benefit of complete information before making a purchase decision." Customers are assisted by fully trained and certified Mobility Consultants that go through all of the possibilities before helping decide on the best and most suitable option.
Both the latest Honda Odyssey with the VMI Northstar conversion and the Toyota Sienna Lift-Up Seat by Bruno are available now. For more information, visit AdaptiveAuto.com.
About Adaptive AutoMobility
Adaptive AutoMobility, located in Denver, Colorado, is celebrating its 20th anniversary of providing wheelchair accessible minivans, full-sized vans with personal lifts, and vehicle equipment designed specifically for people with limited mobility. The company's trained and certified staff is a group of caring experts, providing the best solutions for customers and excellent service to ensure independence and mobility. The organization's goal is helping individuals improve their quality of life through accessible transportation.
###