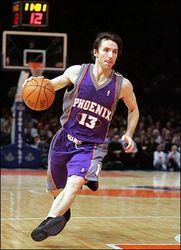 Scottsdale, AZ (PRWEB) March 25, 2008
Do you have basketball on your mind? March Madness got you thinking about hoops? If you have a child who is basketball-crazy, or you are a coach of young players, ProtegeSports.com has a library of downloadable instructional videos featuring basketball stars like Magic Johnson, Jennifer Azzi and Steve Nash, and an online community of basketball players of all ages sharing their experiences, photos and personal stories.
Basketball enthusiasts can view instructional videos to improve their game, from shooting and passing to ball handling and defense, and join in the Protégé Basketball online community at http://www.protegesports.com.
Highlights of the Protégé Basketball online video offerings include:
•36 videos starring two-time NBA MVP and current Phoenix Suns star Steve Nash with drills and instructional clips that focus on individual fundamentals as well as team play and practice organization;
•Basketball Fundamentals with Magic Johnson, who won an NCAA Championship at Michigan State, five NBA Championships with the Los Angeles Lakers, and an Olympic Gold Medal with USA Basketball's Dream Team;
•Eight videos featuring WNBA All-Stars Jennifer Azzi (Olympic Gold Medalist and Stanford NCAA Championship team) and Katie Smith (Detroit Shock star, Ohio State all-time great and Big 10 MVP);
•16 videos featuring former NBA star player Eddie Johnson, who scored over 19,000 career points over 17 years and won the Sixth Man of the Year Award;
•Six videos featuring former University of Kentucky basketball player and Harlem Globetrotters coach Reggie Warford;
•Eight basketball drills starring center Boris Diaw, currently playing with the NBA's Phoenix Suns and a member of the French National Team.
Also available are personalized instructions from legendary basketball Hall of Famers Bob Lanier and George Gervin.
ProtegeSports.com provides a convenient online community where young players or anyone else involved in youth sports can get instruction from the pros or talk with each other to share ideas. Anyone can search the Internet and find sports training tips, but only ProtégéSports.com offers a combination of expert drills, private lessons and community sharing that's available whenever it is convenient. In addition, the web site provides a complete social network that's a combination of MySpace, iTunes and online learning, but designed for sports participants.
If you are paying for private lessons, or one-on-one coaching, the fully-interactive web site developed by Protégé Sports makes it possible for a player, coach or parent to download any of the more than 2,000 drills and instructional videos featuring sports stars at any time, day or night.
To get started, users can create a user name and password at the Protégé Sports web site, http://www.ProtegeSports.com. The cost to join is free, but the cost of downloading a video can range from 99 cents to $5, depending upon the length of the instructional video.
More personalized service is also available. For instance, a basketball player can upload a video of their own shooting, and one of the pros will analyze the action and create a custom video with advice on how to improve. These private video lessons include lines, arrows and side-by-side stop-action frames to show where hands and feet should be during specific moves. Most of these custom coaching videos run from 10 to 15 minutes, and cost approximately $75.
In addition to the drills and instructional help, the Protégé Sports web site also provides a basketball community where participants can "blog," invite friends, upload photos and video, schedule games and organize teams. All you need is a computer or a mobile device.
Additional information about Protégé Sports, including their basketball, baseball, football, golf, soccer, softball, tennis, and strength/conditioning programs, is available at http://www.ProtegeSports.com.
###