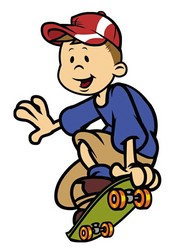 Bristol, CT (PRWEB) March 26, 2008
Autism, while a complex and often confusing neruodevelopmental disorder that greatly affects a child's ability to communicate and socialize, is not unmanageable or impossible to overcome. In fact, parents of children with Autism Spectrum Disorders (ASD) have an incredible new tool, Skill-Building Buddies, to aid in their children's behavioral development. This new series will be available on DVD April 1, 2008 for April's National Autism Month.
Skill-Building Buddies development programs, which received the 2007 National Parenting Center Seal of Approval, are produced by multi-award-winning Mazzarella Media. They are designed to meet the special needs of children with ASD, teaching them techniques and skills to help them handle the challenges they face everyday and function in relation to other kids, bringing about healthy social interactions.
Guided by the charmingly animated hosts Mikey and Mandy and their dog Marvel, realistic, age-appropriate, live-action real scenarios create an audio-visual tool that enhances learning, provides motivation and reinforces positive behaviors. The exercises take viewers through the process of working through situations they often find frightening or frustrating, instilling the mantra "Look, Listen and Remain Calm."
The initial titles in the series are "Skill-Building Buddies: Handling Transitions and Change," and "Skill Building Buddies: Sharing and Taking Turns."
"Handling Transition and Change" tackles the skill of coping and accepting change in the child's everyday life in five segments: "Preparing for Change," "Changing Activities," "When Things Don't Go Your Way," "Handling Surprises" and "When You Don't Know What To Do." Whether it's changing clothes, choosing a different snack or adjusting to an altered scheduled activity, the program teaches the look-listen-remain calm process and delivers the supportive message (though a peppy little song) "When Things Change, You'll Be Okay!"
"Sharing and Taking Turns" presents children with effective strategies to aid with these concepts. Mikey, Mandy and Marvel introduce various age appropriate situations that could take place every day in school, at home and in peer groups.
Project consultants for the Skill-Building Buddies series, are Hilary Boorstein, Ph.D.,candidate in clinical psychology; Scott Roderick, MA, BCBA; Patt Hardison, M.Ed.; and Jaqui McCormick, MA, CCC-SLP. Each DVD in the series is recommended for ages 5-12 and will be available for a suggested retail price of $19.95. Visit http://www.mazz.com for more information or to order Skill-Building Buddies DVDs,
About Mazzarella Media
Mazzarella Media is an Emmy award-winning company that develops products to foster the fun and excitement of learning. Their products are designed to get kids thinking about themselves and the world around them and to enhance intellectual, social, emotional and physical growth by stimulating the imagination, nurturing creativity and developing a love for learning. The company has released a multitude of programs including the multi-awarding-winning children's Monkeydoos fitness DVD series, Potty Power!, which teaches children potty training in an engaging musical format; and several titles in the Thinkeroo line of science programs including Spacetrekkers, Rock Finders and Bio Trackers. Their educational division recently released Exploring Our Past: Native Peoples of North America, an engrossing five-part DVD series narrated by Grammy® award-winning singer-songwriter Joanne Shenandoah, which introduces young viewers to the many Native American tribes that have lived in the vastly diverse regions of the country.
###