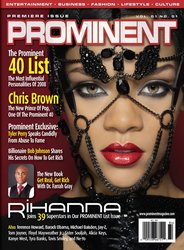 The Ultimate Entertainment & Empowerment Magazine
Las Vegas, NV (PRWEB) March 25, 2008
To get on this list, you have to have more than just good looks and a following. Published by its namesake, Prominent (http://www.prominentmagazine.com), which just hit newsstands worldwide ($3.99 in the U.S. and Canada), the Prominent 40 salutes innovative personalities who have raised the bar with their legendary accomplishments and are currently re-shaping the world as we know it. The List and the Magazine have already been featured on The Tom Joyner Show, Oprah & Friends, The Russ Parr Show, and New York City's Power 105.1's Ed Lover Morning Show
The collection of talents and history-makers from all corners of society is tremendous, a reminder of who's who in today's power circles. There's people like BET's President and CEO Debra Lee, Beyoncé, Cornel West, T.D. Jakes, Floyd Mayweather Jr., soccer great Thierry Henry, and ABC's Robin Roberts. Dr. Denzel Washington gets a nod, but in addition to his acting highlights, the list pays tribute to his work with the Boys & Girls Club of America and other philanthropic endeavors. Similarly, the spotlight on media queen Oprah Winfrey mentions the fact she's given more money to charity than any other entertainer--at least an estimated $300 million. And it's no surprise that Barack and Michelle Obama made the cut. The two, dubbed "Synergy" by the magazine, are described as "one of the world's most inspiring power couples."
Other Icons to Make the List:
Rihanna
Alicia Keys
Kelly Rowland
Michael Baisden
Jennifer Hudson
Ne-Yo
Tasha Smith
Usher
Prominent Magazine "The Ultimate Entertainment & Empowerment Magazine", a bimonthly that caters to the interests of the African American market, is the brainchild of bestselling author and visionary entrepreneur Dr. Farrah Gray (http://www.drfarrahgray.com), who was named one of the "Most Influential Black Men in America" by the National Urban League's Urban Influence Magazine. And he's no stranger to the magazine industry. In 2002, at the age of 17 Gray bought a controlling stake in Inner City Broadcasting Corporation's InnerCity Magazine where he then took the helm as Publisher and Editor-in-Chief. ICBC is known for producing "It's Showtime at the Apollo" and "The Wendy Williams Experience." But he had much bigger dreams for the magazine and spent the last three years planning to launch Prominent. It has a readership of approximately 250,000.
Prominent can be found at leading newsstands and 660 shopping malls across the country. Prominent is also a lead title at Barnes & Noble, and Borders bookstores.
###