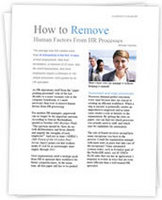 Norwalk, CT (Vocus) March 25, 2008
With profits and stock prices under pressure from a slowing economy, many companies are searching for ways to deliver better results to their investors. In an effort to increase earnings, PerfectSoftware suggests the opportunity that management look more closely at streamlining employee and benefit expenditures.
Increase Company Profits through Better HR Management
Human Resource Professionals generally agree on the value, even necessity, of HR automation. But most HR professionals, either process data manually or express dissatisfaction with whatever automation they use. Why do we have this contradiction? From our over 20 years of HR experience we have found that HR professionals have not been as effective as their counterparts in accounting, marketing, manufacturing, etc. in justifying their human resource software investment to corporate management. PerfectSoftware has solved that problem by providing human resource management with a useful tool that will enable them to make a more informed decision about the benefits of automating their HR functions and justifying the costs of switching to a human resource information management system.
The HRIS Investment
Justifying the investment in a new HR system requires HR professionals to address management's concerns on issues such as ROI (Return On Investment). As former HR practitioners ourselves, we at PerfectSoftware, know how difficult it is to show ROI for human resources dollars. We work with our clients in assisting to develop a payback analysis to present the value of our system to upper management. Our analysis details and quantifies the cost of doing nothing and then outlines the hard dollar savings that would be possible by implementing a modern HRIS like PerfectHR to streamline HR duties.
Basically, if a new HR system costs more than maintaining the status quo then there will be problems selling the solution to management. If on the other hand, an investment in a new HRIS is less than maintaining the status quo, then justifying the investment to upper management becomes an easier task.
How will you justify the cost of migrating to a new HRIS provider?
Use PerfectSoftware's new HRIS ROI Calculator to see how much money you could potentially save your company by implementing a human resource software solution. Just answer some simple questions about yourself and your company and you could have an 8-page detailed report in your hands outlining how migrating to a HRIS can help add to your company's bottom line profits.
Try the ROI calculator free today at: http://www.perfectsoftware.com/roi
Automating Your HR Processes
The average new hire creates more than 30 transactions in the first 14 days of their employment. After their termination, a minimum of 25 more. Add life event transactions, and most employees require a minimum of 100 unique processes, each guided by an HR specialist.
As HR repositions itself from the "paper pushing personnel" role of the last decades to a more visionary role in the company boardroom, it's more necessary than ever to remove human factors from HR processing.
Read more of this short white paper here: How to Remove "Human" factors from HR Processes.
###