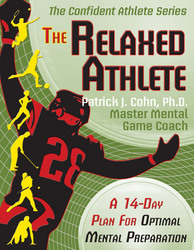 Pre-game mental preparation is the best time to manage emotions and thoughts about an upcoming performance.
Orlando, FL (PRWEB) March 25, 2008
Pre-game jitters present a Catch-22 for athletes at every level, from youth sports to the professionals. Some athletes are so anxious that they cannot sleep the night before a crucial game, or they feel sick to their stomach moments before the whistle blows. If not controlled, pre-competition anxiety can cause athletes to tighten up and feel pressured during competition. However, when managed properly, these same pre-game jitters can help athletes to excel. Too little physical activation/stress can cause performance to decline.
"If you are an athlete, your ability to cope effectively with pre-game nerves is critical to consistent optimum performance," said Dr. Patrick Cohn, a sports psychology expert who is president and founder of Peak Performance Sports (http://www.peaksports.com). "Pre-game mental preparation is the best time to manage emotions and thoughts about an upcoming performance."
Effectively managing pre-game nerves is one of the subjects in 'The Relaxed Athlete: A 14-Day Plan for Optimal Mental Preparation' which is the fifth installment in Dr. Cohn's Confident Athlete series. "The Relaxed Athlete," which debuted in April, consists of two audio CDs that include 14 days of mental game strategies and a simple-to-follow workbook that guides participants through the details they hear on the CDs, helps apply the strategies and customizes the exercises to their personal needs. Dr. Cohn provides students with a system to identify their ideal performance state, anticipate and cope with any situation, and perform at their highest level.
"When you feel confident and prepared, it is easier to feel relaxed," Dr. Cohn explained. "A relaxed athlete is prepared both mentally and physically for competition. For the relaxed athlete, it does not matter if you compete every week or in a big event two times per year, you feel poised and ready to perform your best."
Dr. Cohn, who earned a doctorate in sports psychology from the University of Virginia, is considered by many in the sports psychology field as the leading authority on developing mental skills for pre-game routines. He mentors colleagues about the subject and provides performance enhancement skills through mental game coaching for athletes in team and individual sports. PGA Tour golfers, NASCAR drivers and motocross champions are among the clients Dr. Cohn has worked with.
In 2006, Dr. Cohn introduced his popular mental toughness CD and workbook programs The Confident Athlete Series, which includes "The Confident Athlete," "The Focused Athlete," "The Composed Athlete," "The Fearless Athlete" and now "The Relaxed Athlete."
In "The Relaxed Athlete" Dr. Cohn presents an array of mental game strategies and exercises to help participants pinpoint their anxieties and ineffective attitudes that are detrimental to success.
"Many of the athletes I work with fixate on how they will appear to others (such as teammates, parents, coaches) when performing. This hidden need to execute flawlessly or to look good in competition undermines performance during competitive situations," Dr. Cohn explains. "As part of The Relaxed Athlete program, each day readers will complete exercises to identify mental barriers and improve their mental game. These awareness exercises help identify mindsets that undermine success in sports. By the end of the program, they will have a plan for confident and calm pre-game preparation."
For more information about Peak Performance Sports, visit http://www.peaksports.com and http://www.peaksportsnetwork.com.
For details about The Relaxed Athlete new product release, visit http://www.peaksports.com/stressfree.php.
Media Contact:
Jeff Louderback
Write Perceptions PR
407-474-6149
jlouderback @ cfl.rr.com
###